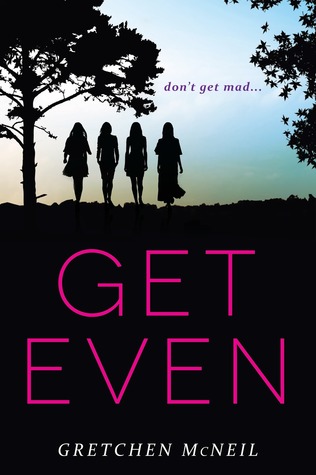 Pages: 320
Publication: September 16th 2014 by Balzer & Bray 
Series: Don't Get Mad #1
Source: Balzer & Bray via Edelweiss
Amazon • TBD • Kobo • Goodreads

The Breakfast Club meets Pretty Little Liars in Gretchen McNeil's witty and suspenseful novel about four disparate girls who join forces to take revenge on high school bullies and create dangerous enemies for themselves in the process.

Bree, Olivia, Kitty, and Margot have nothing in common—at least that's what they'd like the students and administrators of their elite private school to think. The girls have different goals, different friends, and different lives, but they share one very big secret: They're all members of Don't Get Mad, a secret society that anonymously takes revenge on the school's bullies, mean girls, and tyrannical teachers.

When their latest target ends up dead with a blood-soaked "DGM" card in his hands, the girls realize that they're not as anonymous as they thought—and that someone now wants revenge on them. Soon the clues are piling up, the police are closing in . . . and everyone has something to lose.

I was so excited for Get Even when I first seen it. It had me at The Breakfast Club meets Pretty Little Liars and I loved Gretchen McNeil's writing in 3:59 so I couldn't wait to get started on it!
Get Even is kind of split evenly down the middle with being character driven and plot driven. It's quite focused on the characters because each one has their own little secrets they are hiding but there is also an awesome plot. I thought each of the main girls was very interesting and I liked each one at different times. They each made me angry, but then the point of view would change and I would end up seeing the story from their perspective and switch back to liking them. I think the two that I enjoyed the most though were Bree and Margot. I liked Margot's personality and there was a lot of development from her throughout the story as she got a bit more comfortable in her own skin. Bree was just a bit sassy and I warmed up to her easily. The girls in DGM are definitely not a group you would tag as being friends and that's what makes everyone so mystified about who they could be!
I was completely sucked into this book from page one. I don't know what it was specifically because the whole 'revenge' thing doesn't really thrill me but the story and the mystery just wrapped me up in it. There is so much going on all the time, and each page there is a new surprise and something else thrown into the story. I don't want to give too much away because I went into this without reading any reviews or any thoughts on it, and it really worked: I was nearly always surprised!
I definitely recommend Get Even, it's riveting, well written and will keep you guessing and on the edge of your seat. The only problem is that it will keep you there… because you get zero answers at the end of the book. Zero. I actually reread the last several chapters because I was sure that I had missed something because I didn't think it was possible to leave a story that wide open at the end. I wish I had of waited on this one till the next book is out honestly. This one would have got a full five stars from me but the fact that I just really, really feel unsettled with the ending drops it down by one. I went back and forth with what i should rate it but ultimately, I decided on four stars. I LOVED this book and that's the truth, and I think it will be fabulous to read this and the next one in one fell swoop.
 I have a million guesses and no idea at all who could be committing these murders, I am absolutely puzzled and the fact that I have to wait almost a year to get these answers kills me a little inside.