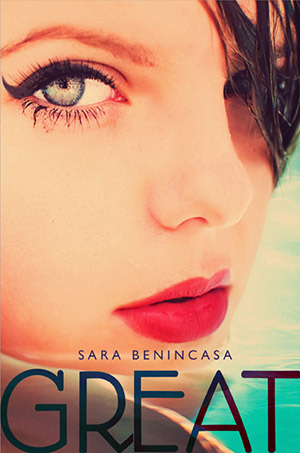 Pages: 272
Publication Date: April 08th 2014 by HarperTeen 
Series: N/A – Stand Alone
Source: Harper Teen via Edelweiss
Amazon • TBD • Kobo • Goodreads

Everyone loves a good scandal.

Naomi Rye usually dreads spending the summer with her socialite mother in East Hampton. This year is no different. She sticks out like a sore thumb among the teenagers who have been summering (a verb only the very rich use) together for years. But Naomi finds herself captivated by her mysterious next-door neighbor, Jacinta. Jacinta has her own reason for drawing close to Naomi-to meet the beautiful and untouchable Delilah Fairweather. But Jacinta's carefully constructed world is hiding something huge, a secret that could undo everything. And Naomi must decide how far she is willing to be pulled into this web of lies and deception before she is unable to escape.


The Hamptons is one of my favorite settings. I love the drama and the socialite lifestyle that comes with it so I knew I had to read Great. I had NO idea however, until MONTHS after adding it to my TBR that it was a retelling of The Great Gatsby. I had read The Great Gatsby years ago in high school, and while I didn't dislike it, it wasn't my favorites. I have since chalked that up to it being a required read and not being interested in the genre when I was younger because I when I think back to the story it's something that I think I would LOVE now if I did a reread!
I really loved Naomi, immediately. I thought she was interesting and so was her backstory. I enjoyed that she didn't fall head of over heels with the ultra rich lifestyle and even when she was welcomed into it, she still kept her values (for the most part) and true to herself. Her mother on the other hand was wretched. I didn't dislike this family dynamic as much as other stories though and perhaps because it felt much more real to me than some are portrayed. Naomi and her father have a very close relationship and she lives with him full time, while spending the summers with her famous mother in the Hamptons. Her mother is not nurturing and cares more about how she is perceived to others than maintaining relationships. Jacinta is one of my favorite characters hands down. I loved her quirkiness and her genuineness. Naomi described her best, while she might have been a liar, or at least a major exaggerator, she was a good person. She just wanted to be liked and accepted and that alone made my heart ache for her.
The story was incredibly fast paced and really stayed along the same note as the original, so the retelling portion of the story was done very, very well. That being said, I kind of forgot that this WAS a retelling while I was reading it because it holds it's own as well. It's hard not to get swept up in the fascinating lives these teens have. I don't want to give too much away, because if you haven't read The Great Gatsby, several parts of the story will be a great surprise I think, and even if you have you may still be!
The ending made me so sad, so so sad. While I knew it was going to happen like that essentially, it made it no less sad. Despite it being the way I would have liked, it was still a great ending and I loved the final act.
Great is one of those books that you can just devour in a few hours. With the wonderful writing, the interesting characters and their scandalous behaviour it's nearly impossible to put down. Not only is this a book that I definitely recommend, but it's one that I will be personally adding to my shelves!