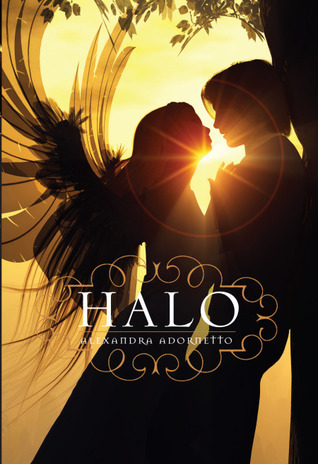 Pages: 484
Published: August 31st 2010 by Feiwel & Friends
# in Series: #1 in Halo Series
Source: Purchased at Indigo Spirit
Amazon | The Book Depository | Chapters/Indigo | Kobo
 "An angel is sent to Earth on a mission.

But falling in love is not part of the plan.

Three angels – Gabriel, the warrior; Ivy, the healer; and Bethany, the youngest and most human – are sent by Heaven to bring good to a world falling under the influence of darkness. They work hard to conceal their luminous glow, superhuman powers, and, most dangerous of all, their wings, all the while avoiding all human attachments.

Then Bethany meets Xavier Woods, and neither of them is able to resist the attraction between them. Gabriel and Ivy do everything in their power to intervene, but the bond between Xavier and Bethany seems too strong.

The angel's mission is urgent, and dark forces are threatening. Will love ruin Bethany or save her?"
My Thoughts & Review:
 Bethany, Ivy & Gabriel are angels sent down to essentially rid the world of evil. They are a small part of a huge mission that is taking place on earth. These three angels are sent to a small town which is recently over run with awful happenings and it's their job to bring joy, light and good back into the town. Bethany is enrolled into the local high school and fits in better than planned. She quickly makes some close friends and Xavier is immediately drawn to her. And she to him. The only problem is that angels are not supposed to build these close relationships with people. Soon terrible things start to happen while Bethany and Xavier are smack in the middle of it.
Well it's not a secret that I am a huge fan of angel books. They are absolutely one of my favorite genres. What I was actually surprised that I enjoyed about Halo was that it directly refers to God and has definite religious undertones. A lot of the angel books I have read, while they make subtle hints about it, they don't directly refer to religious aspects of the genre. I do not read religious books as a rule so I was fantastically surprised that I did enjoy this, despite the religious aspect that came into play.
I really enjoyed the main character, Bethany. She was delightfully innocent and her character building was great. Bethany is essentially a "young" Angel so this was her first time on earth. She experienced everything for the first time, where as Ivy & Gabriel had previous experiences with earth and it's wonders. I loved how the author went into quite a detail with the descriptions of Bethany experiencing sensations, tastes and all of the wonderful firsts she had. I also especially loved Ivy, Bethany's sister. She was so sweet, and kind and exactly what you would picture an angel to be. Xavier was also a wonderful love interest for Bethany. He was strong, handsome and I loved that he had strong and honest emotions.
Halo was a predictable story and most the time you could guess what was going to happen but never the less it did not take away from the story. There were a few surprises though so that helped the plot move along. The only downside I have to say is that the story moved quite slow for about the first half. You know from the get go that they are there to help the town be rid of the evil but the first half didn't really have any part of that, it was mainly developing Bethany and the other characters as well as focusing on the relationship between Bethany and Xavier. While that absolutely secured good character development it slowed the pace of the book down.
I still very much enjoyed this book and while absolutely be reading the rest of the series. I can't wait to see how this Angel/human relationship develops! If you love angel books, romance and a nice mix up from the Fallen Angel books I definitely recommend Halo! Despite it's size, it's a very easy to read book!
My Rating:

Happy Reading!
xo Lauren