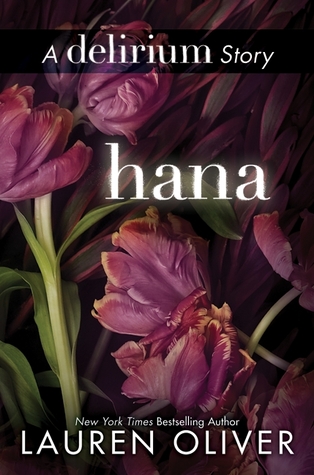 Hana
by
Lauren Oliver
Series:
Delirium #1.5
Published by
HarperCollins
on February 28th 2012
Pages:
64
Source:
Purchased on Kindle
Add on Goodreads
Amazon•Kobo•TBD My Rating:
The summer before they're supposed to be cured of the ability to love, best friends Lena and Hana begin to drift apart. While Lena shies away from underground music and parties with boys, Hana jumps at her last chance to experience the forbidden. For her, the summer is full of wild music, dancing—and even her first kiss.

But on the surface, Hana must be a model of perfect behavior. She meets her approved match, Fred Hargrove, and glimpses the safe, comfortable life she'll have with him once they marry. As the date for her cure draws ever closer, Hana desperately misses Lena, wonders how it feels to truly be in love, and is simultaneously terrified of rebelling and of falling into line.

Hana is the bridging story between Delirium & Pandemonium. It is told not from Lena's point of view, but from her best friend, Hana. The story takes place in the summer before the girls get the cure.
I was really looking forward to reading this short story. When I finished I was reading to throw my tablet clear across the room. ARE YOU KIDDING ME??? Hana was the one that told the authorities about Lena & Alex? *Pardon Me*… The little bitch.
I actually hated Hana in this story, which is funny because before I read this I was excited that Hana and Lena's path cross in Requiem now I don't care if Lena ever sees her again. I felt so sad for Lena in this story. From Lena's perspective in Delirium she was excited that Hana was with her and Alex but it seems that Hana didn't care at all, she was jealous.
I have a totally different perspective of Hana now. I didn't love this story so that's why I just gave it a three-middle of the grain type of read.