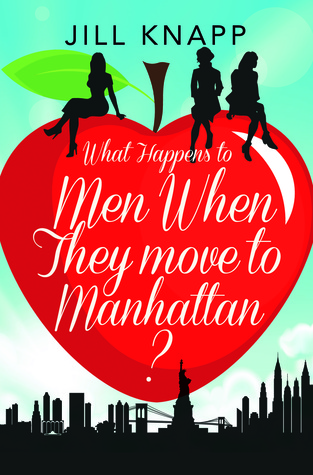 Pages: 182
Published: July 24th 2014 by Harper Impulse
Series: What Happens to Men When They Move to Manhattan #1
Source: Author for review

The question that 23-year old Amalia Hastings wants the answer to is: What happens to men when they move to Manhattan?

Life in the big city gives Amalia a ride she is not expecting. As she tries to find her way on the little island that never sleeps, she discovers she has a harder time navigating through life then she does the streets of Greenwich Village and finds herself truly lost in the complex world of men, graduate school, money, family, and friendship.

She thought she had everything she wanted – a new apartment in Manhattan, a first-rate education at NYU, a group of trusted friends and Nicholas, a boyfriend who she once believed was her soul-mate. But somehow, it isn't enough.

Stumbling through her relationships, Amalia encounters Michael. An attractive classmate who quickly moves from being one of her close friends, to an inconsistent friend-with-benefits. After all, the only thing consistent about New York is its beauty.

After getting terribly lost searching for love in all the wrong places, Amalia finds herself torn between the possibility of a relationship, and an adventure she's been planning all along.

She eventually realizes that solely chasing love closes her off to all of the other good things life has to offer. Now she must decide – what is worth the chase?


The element that intrigued me the most about What Happens to Men When They Move to Manhattan was definitely the Manhattan setting. Ever since I binge watched Gossip Girl earlier this year, I just adore books set in NYC … add to the fact that this New Adult story sounded unique from anything I had read recently, I was very excited to start reading!
I liked Amalia, and nearly instantly. She really reminded me of a Sophie Kinsella character… overly dramatic, frazzled, a little scatterbrained, makes bad choices but ultimately a very endearing character. I also really liked her two best friends Olivia and Cassandra. They were perfect best friends, and very supportive. And with Cassie, she was just no-nonsense and I love that trait in a character.
Both of Amalia's love interests, Nick and Michael are idiots and I instantly disliked them both. They were just fools and very self involved. Michael was just a dirtbag overall, taking advantage of Amalia while his girlfriend sat states away. There is a glimpse of a very eligible candidate so I hope we see more of him in book two! Cassandra's love interest, Bryce, I just detested. Argh, just like Amalie I disliked him immediately. I couldn't understand why someone so awesome as Cassandra was involved with just a *cough* asshole.
The plot was fairly predictable, but I don't think it was really meant to be a surprise and it didn't take away from me liking the story at all. It was a very realistic story, with real issues that girls that have just finished college have to face and I loved that.
All in all, What Happens to Men When They Move to Manhattan is a light, fun, contemporary read. It strays from the generic mold that New Adult seems to have lately and definitely holds your interest to the last page.
I will certainly be continuing this series 🙂