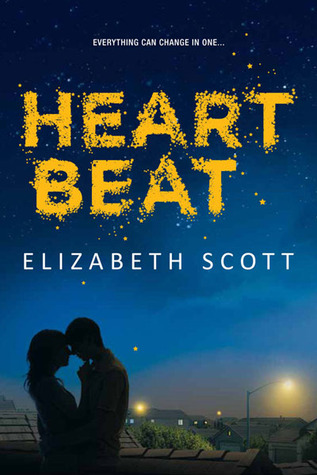 Pages: 304
Expected Publication: January 28th 2014 by Harlequin Teen 
Series: N/A – Stand Alone
Source: From Kismet BT via Netgalley
Amazon | TBD | Kobo | Goodreads

Life. Death. And…Love?

Emma would give anything to talk to her mother one last time. Tell her about her slipping grades, her anger with her stepfather, and the boy with the bad reputation who might be the only one Emma can be herself with.

But Emma can't tell her mother anything. Because her mother is brain-dead and being kept alive by machines for the baby growing inside her.

Meeting bad-boy Caleb Harrison wouldn't have interested Old Emma. But New Emma-the one who exists in a fog of grief, who no longer cares about school, whose only social outlet is her best friend Olivia-New Emma is startled by the connection she and Caleb forge.

Feeling her own heart beat again wakes Emma from the grief that has grayed her existence. Is there hope for life after death-and maybe, for love?


Heartbeat was a book that immediately caught my attention when I seen it. I love Harlequin Teen and in 2013 they were win, win, win for me so I thought that this would be an emotional, perfect read. I was very excited to be a part of the promo blitz for it as I was so excited to pick it up. Little did I know, I would have a completely different relationship with this book than I thought…
The main character, Emma, is incredibly hard to like. I can absolutely see why so many people disliked her. I also disliked Emma, but I didn't let my dislike for her hold me back. I empathized with her awfulness: her mother just died, but she still sees her everyday because she is kept on life support to allow the baby to grow. It's an incredibly difficult situation she is in, especially since she doesn't agree with it, and I grew to appreciate her feelings. It's hard to say what one would be like in that type of situation, but I can imagine that as a sixteen year old, just losing your mother I may very well act like that as well. I found her reactions real, based on the situation so while I disliked her most of the time, I had to consider that. Had this been a different type of story, with a main character like Emma, I probably would have put the book down… because she is awful. Caleb, I was just totally disinterested in. I found him nice enough, and good enough for Emma but I just didn't care about him own way or another. His family life was terrible though, and his parents wretched, so I did feel sorry for him. I like his and Emma's relationship though and that it was built off a mutual grief. They made each other stronger throughout the story. Olivia is Emma's best friend, and she was the only character that I can say I actually liked. She was an interesting type of personality, and very loyal to Emma. I wish we could have seen just a bit more of her.
The main drawback I had with the story was Emma's absolute horrific treatment of her stepfather. I understand she didn't agree with his decisions, but I hated that she didn't even try to understand his grief as well. He was so good to Emma, and never once thought of her as anything other than his daughter but she made up this imaginary evil figure from him and I felt so sorry for him. Even when she started to warm up to him, her thoughts were still so immature and negative.
I thought the story was really heart wrenching. Despite my drawbacks with the characters and relationships, there were times where I could have almost just sobbed for Emma. More often than not, when she was at her mothers bedside I was fighting back tears. Elizabeth Scott created a completely emotional story, and it's unlike anything I've ever read. The plot is nothing that I've seen in a YA book, and it really does make you stop and think.  While it does have it's faults, it's a beautiful story of heartache, loss and family and I definitely think it's worth the read.