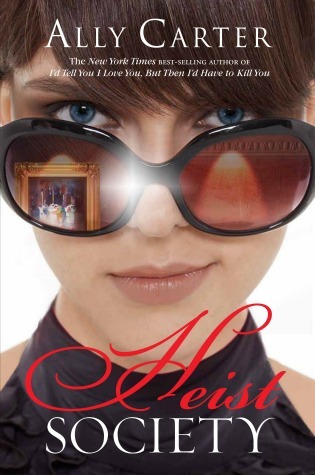 Pages: 291
Published: February 09th 2013 by Disney Hyperion 
Series: Heist Society #1 
Source: Borrowed from library

When Katarina Bishop was three, her parents took her to the Louvre…to case it. For her seventh birthday, Katarina and her Uncle Eddie traveled to Austria…to steal the crown jewels. When Kat turned fifteen, she planned a con of her own–scamming her way into the best boarding school in the country, determined to leave the family business behind. Unfortunately, leaving "the life" for a normal life proves harder than she'd expected.

Soon, Kat's friend and former co-conspirator, Hale, appears out of nowhere to bring her back into the world she tried so hard to escape. But he has good reason: a powerful mobster's art collection has been stolen, and he wants it returned. Only a master thief could have pulled this job, and Kat's father isn't just on the suspect list, he is the list. Caught between Interpol and a far more deadly enemy, Kat's dad needs her help.

For Kat there is only one solution: track down the paintings and steal them back. So what if it's a spectacularly impossible job? She's got two weeks, a teenage crew, and hopefully just enough talent to pull off the biggest heist in her family's (very crooked) history–and, with any luck, steal her life back along the way.


Heist Society was one of those books that had been on my TBR for basically as long as I've had a TBR. I decided to pick it up, finally, from the library as I thought it would be a great summer read.
The main character, Katarina, comes from a family of thieves. Her Dad is a thief, her mother was a thief, her uncle, and all of her close friends. She tried to escape from that life, and conned her way into a prestigious boarding school but.. that didn't go over. When she leaves the school she learns that an unknown thief has stolen valuable paintings from an extremely dangerous man… and that man thinks it's Katarina's father. Katarina (and company) takes off on a round the world chase to try to and find out who stole those paintings so she can save her father.
I liked Katarina quite a bit. She was snarky, sarcastic and super smart. I enjoyed the back and forth banter she would have with her peers, especially Hale. I liked Hale as well. Honestly, I didn't dislike any of the characters but I did not form a strong attachment with them either. Heist Society is much more plot driven, than character driven in my opinion so while there is a ton of characters being introduced the small amount of information you are given on them is more than enough to carry you through the story.
The plot was great. I love the idea of a family of thieves and con artists. I thought the travelling back and forth across the globe was exciting and kept the novel interesting. One thing I had a hard time getting used to though was Ally Carter's writing style. It was really jumpy, and sometimes I had to re read pages just to see if I missed something. Once I got used to the writing style however it was really enjoyable and the pacing is very fast paced.
All in all, Heist Society, is exactly what I wanted it to be: a light, fun, summer read. The "surprises" were very predictable but that doesnt ruin the story. It's fun and entertaining and I will definitely be continuing on with the series. I recommend picking up Heist Society before the summer ends, it's a great beach read!



Happy Reading!

xo Lauren