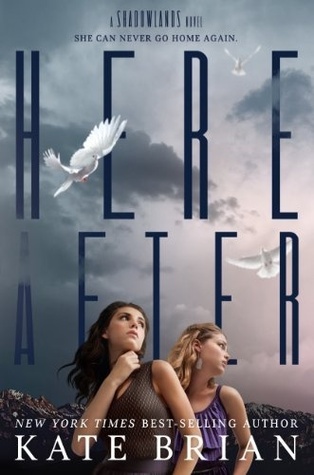 Pages: 320
Published: October 01st 2013 by Disney-Hyperion 
Series: Shadowlands #2
Source: Purchased at World's Biggest Bookstore
Amazon | TBD | Kobo | Goodreads

Rory Miller thought her life was over when a serial killer set his sights on her and forced her into witness protection. But a fresh start on Juniper Landing Island was exactly what she and her family needed. For the first time in years she and her sister hang out at the beach, gossip about boys, and party together. She's also made friends with a local clique–including a magnetic and mysterious boy named Tristan. 
But Rory's world is about to change again. Picturesque Juniper Landing isn't what it seems. The truth about the swirling fog that rolls in each morning, the bridge that leads to nowhere, and those beautiful locals who seem to watch Rory's every move is more terrifying than being hunted by Steven Nell. And all Rory ever wanted was the truth. Even if it means learning that she can never go home again. From the best-selling author of the Private and Privilege series comes the second novel in a heart-stopping trilogy about a girl who must pick up the pieces after the only life she's ever known ends.


Shadowlands shocked me with the random ending that it had. I did not see that coming at all, so I was SO eager to pick up Hereafter and see how Rory's story continued. I did sneak a few looks at early reviews and I had seen that this one had a shocking ending as well so that made me all the more excited to dive into Hereafter.
Hereafter continues on right where Shadowlands leads off; The teenagers of Juniper Landing have just sent Steven Nell away and Rory is trying to figure out what is going on. She starts to learn bit, by bit what is happening at the island but it's definitely not all rainbows.
I still loved Rory in Hereafter but once again, other than her father and sister, I had a hard time with the other characters for sheer suspicion alone. I'm ok with that though because it made me enough the plot a lot more.
This book is so plot based and action filled that it's incredibly hard to put down, and I basically had to read it in one sitting. It has the same mysterious and suspicious tone that Shadowlands had, and that's one of things that has me in love with this series. It's so hard to tell who is being truthful and honest, that you can't be certain of anyone!
The big "surprise" that everyone talked about was my only downfall. The entire story, the chapters are alternating between Rory and this unknown person who is plotting something terrible. At the end it all kind of comes together and unfortunately it was who I thought all along. I didn't think it was a big surprise because it seemed like that was the obvious choice to me, so I thought that the "unknown person" would be someone completely random. Or well, at least to me it wasn't random. Other than that I thoroughly enjoyed the story, despite the ending not being a huge shocker.
Hereafter has definitely sent up Endless for a big finale and I can't wait to see how Kate Brian wraps up this story!