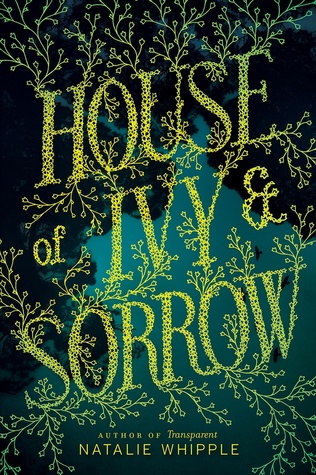 Pages: 352
Publication: April 15th 2014 by HarperTeen 
Series: N/A – Stand Alone
Source: Harper Teen via Edelweiss

Josephine Hemlock has spent the last 10 years hiding from the Curse that killed her mother. But when a mysterious man arrives at her ivy-covered, magic-fortified home, it's clear her mother's killer has finally come to destroy the rest of the Hemlock bloodline. Before Jo can even think about fighting back, she must figure out who she's fighting in the first place. The more truth Jo uncovers, the deeper she falls into witchcraft darker than she ever imagined. Trapped and running out of time, she begins to wonder if the very Curse that killed her mother is the only way to save everyone she loves.


Witch books are by far my favorite reads so when I seen House of Ivy & Sorrow I didn't have to think twice about reading it. One plot point that I love reading about and do not see enough is Curses so this was an absolute must read for me.
I LOVED these characters, honestly. Nearly every single person in Josephine's life was just fantastic. They weren't particularly fleshed out or stellar but they were altogether a great group of family and friends and I had to appreciate that. Josephine was strong-willed and stubborn and those are always qualities that draw me in to protagonist. Plus she had a great relationship with her friends & family and really held them close to her heart. Jo's grandmother was just hilarious at times but she was very strong and a great parent to Jo. I don't want to delve too far into the characters because there are some plot points intertwined with them and it would spoil the effect of the story to discuss much.
The main story, while quite predictable was so enjoyable. There were a few things that threw me for a loop but it was so well written and action based that I couldn't put it down. All of the intricate elements that were involved from the Curse to the histories were so attention grabbing and I easily read this in two sittings.
The romance between Jo and Wynn, probably might be one of my favorites as of late. It was innocent, sweet and lovely to read about. They knew each other for several years, were friends first and I was definitely in their court the whole time.
One thing that I did notice and it stuck out fairly strongly for me, especially towards the end of the novel was this read more like a slightly older middle grade novel. Not quite young adult but on the older age scale of middle grade, if that makes sense. That's not a negative thing, I love the way it read, however I want to point that out incase that is a turn off to some people. It was wrapped up lock and key, there wasn't a single plot point left open. For me, that is perfect because I have much better luck with closed endings as opposed to open endings, or things left undone.
I loved House of Ivy & Sorrow. It was wonderfully well written, attention grabbing, the characters were fantastic and the ending was perfect. I highly recommend this book!