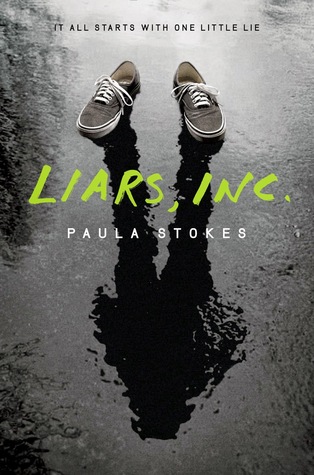 Liars, Inc. by Paula Stokes
Published by Harper Teen on March 24th 2015
Pages: 368
Source: Harper Teen via Edelweiss
Add on Goodreads
Amazon•Kobo•TBD
My Rating:

Max Cantrell has never been a big fan of the truth, so when the opportunity arises to sell forged permission slips and cover stories to his classmates, it sounds like a good way to make a little money and liven up a boring senior year. With the help of his friends Preston and Parvati, Max starts Liars, Inc. Suddenly everybody needs something and the cash starts pouring in. Who knew lying could be so lucrative?

When Preston wants his own cover story to go visit a girl he met online, Max doesn't think twice about hooking him up. Until Preston never comes home. Then the evidence starts to pile up—terrifying clues that lead the cops to Preston's body. Terrifying clues that point to Max as the murderer.

Can Max find the real killer before he goes to prison for a crime he didn't commit? In a story that Kirkus Reviews called "Captivating to the very end," Paula Stokes starts with one single white lie and weaves a twisted tale that will have readers guessing until the explosive final chapters.


The Art of Lainey was one of my favorite books of 2014, so when I seen Liars, Inc. it quickly became one of my most anticipated reads of 2015 … I couldn't wait to dive into it!
Ok first off, let's talk about the characters. I was SO excited that the main character was male! And I really, really liked Max from the beginning. Win-win. Max has a really interesting back story as well. Parvati, I wasn't the biggest fan of at first, but towards the end I really started to warm up to her. Preston, I also liked initially, but we didn't really get to see much of him before the murder happened. I also LOVED Max's family. They were so kind and loving and I really loved to see a present, caring family in the mix!
I read Liars, Inc. in one sitting, it was impossible to put down. I just HAD to know what was going on and who was behind all of the shenanigans. My suspicions were swayed every few pages, and the person who I was SURE was behind everything turned out not to be which absolutely thrilled me. Nearly every thriller I read I am able to pinpoint who the culprit is, or the twist that is coming and it wasn't until the nearly the end that I figured out this one.
I don't want to say too much, because everything I say might give away bits of the story that you NEED to discover along the way. It is such a fast paced, edge of your seat thriller and I was so incredibly satisfied with the way it ended.
Liars, Inc. is a totally different story than The Art of Lainey was, but it's equally amazing. It has cemented Paula Stokes as an auto-buy author for me because she is an amazing story-teller!
Highly recommended 🙂