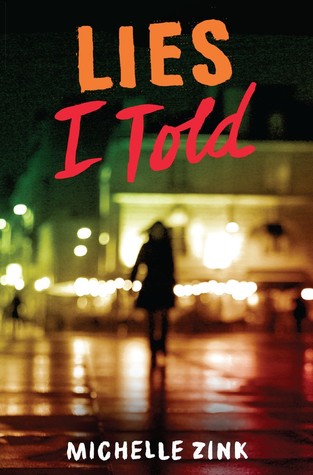 Lies I Told by Michelle Zink
Series: Lies I Told #1
Published by Harper Teen on April 07th 2015
Pages: 352
Source: Harper Teen via Edelweiss
Add on Goodreads
Amazon•Kobo•TBD
My Rating:

What if, after spending a lifetime deceiving everyone around you, you discovered the biggest lies were the ones you've told yourself?

Grace Fontaine has everything: beauty, money, confidence, and the perfect family.

But it's all a lie.

Grace has been adopted into a family of thieves who con affluent people out of money, jewelry, art, and anything else of value. Grace has never had any difficulty pulling off a job, but when things start to go wrong on the Fontaines' biggest heist yet, Grace finds herself breaking more and more of the rules designed to keep her from getting caught...including the most important one of all: never fall for your mark.


I picked up Lies I Told solely because of the con artist aspect. Although I don't read a lot of books with that as the main theme, I really enjoy that type of plot so I was thrilled to be able to pick this one up early!
For the most part, the characters were fantastic. The main character, Grace, was one of my favorites. I loved how despite her past actions, and family values, she had a conscious and was constantly second guessing her decisions. I would have been concerned if she thought her behaviour was normal and appropriate! Her internal battle with being lonely and missing out on solid friendships really made her endearing to me, and that's probably the main reason that I warmed up to her so quickly. Her brother Parker was a bit harder to like because he was so moody, but he loved Grace so much and was a fantastic brother to her so I couldn't help but like him. Selena and Logan were also two of my favorites. Selena was such a fantastic friend, and Logan was so sweet to Grace. I was constantly sad throughout the book just thinking that those relationships were going to be ruined and coming to an end soon. Grace & Parker's parents though have a lot to be desired. I think that Grace tried so hard to imagine them as these loving people, but in reality, as Parker thinks, they were just using their own children for their benefit. Yuck.
The plot moved quickly, almost too quickly because I felt like I didn't have enough time with everyone and soon enough it was time for the heist to begin. That being said, it definitely was an edge of the seat type of read and I didn't have a single point where I felt like the story was dragging on. The romance was most certainly instalove, but it didn't bother me too much because I was rooting for Grace and Logan throughout the story.
Two things about the ending surprised me: the actual way the events played out and that Lies I Told is actually a series! After reading the book, I can see how certain things happened at the end that were somewhat hinted upon throughout the book but I was completely oblivious to those hints – I was completely shocked! The fact that this is actually going to be a series surprised me as well, I went into this thinking it was a standalone but I'm happy that I will get more time with Grace. It also helps because the ending wasn't rushed or ended abruptly which was one of my fears the closer we got to the end (thinking it was a stand alone).
All in all, I thoroughly enjoyed Lies I Told! I thought it was well written, the characters were solid, the romance was sweet and there is enough of a cliffhanger to keep me coming back!