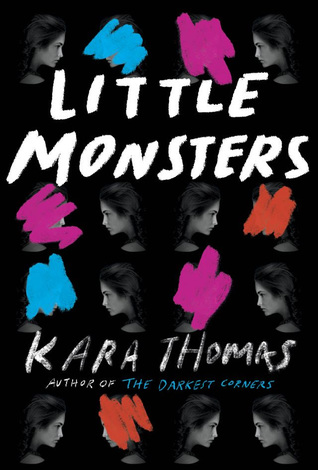 Little Monsters by Kara Thomas
Published by Delacorte Press on July 25th 2017
Pages: 336
Source: Borrowed from the Library
Add on Goodreads
Amazon•Kobo•TBD
My Rating:

Kacey is the new girl in Broken Falls. When she moved in with her father, she stepped into a brand-new life. A life with a stepbrother, a stepmother, and strangest of all, an adoring younger half sister.

Kacey's new life is eerily charming compared with the wild highs and lows of the old one she lived with her volatile mother. And everyone is so nice in Broken Falls—she's even been welcomed into a tight new circle of friends. Bailey and Jade invite her to do everything with them.

Which is why it's so odd when they start acting distant. And when they don't invite her to the biggest party of the year, it doesn't exactly feel like an accident.

But Kacey will never be able to ask, because Bailey never makes it home from that party. Suddenly, Broken Falls doesn't seem so welcoming after all—especially once everyone starts looking to the new girl for answers.

Kacey is about to learn some very important lessons: Sometimes appearances can be deceiving. Sometimes when you're the new girl, you shouldn't trust anyone.


Last year I was on a major thriller kick, they were the only books it seemed I could fly through and apparently that's carried through to 2018 for me as well! Little Monsters seemed to have slipped right by my radar last year but I saw it featured in some wrap-ups in December and it definitely piqued my interest. I've not been having the greatest luck with books out of the library lately, as it seems everything I am interested in has a ton of holds but this one came right through to me so I started it straight away!
I had such a weird relationship with the characters in this book. I guess it was because I was suspicious of them all at different times, but I had a hard time trusting what anyone was saying. All of the characters are flawed and fairly realistic in my opinion. Well… for most things. There is one part I thought was a stretch, but that's a spoiler so I'll let that alone. I liked Kasey, the main character, quite a bit. I enjoyed the voice she had in the book and my heart ached for her when she was talking about her previous home vs the one she has now. Her stepmother was just remarkable. She was SO kind, and welcome Kasey and treated her like her own daughter. I really loved that, and it was refreshing to not see the evil stepmother trope. Honestly, I don't want to say a damn thing about any of the characters because if you don't guess the "whodunit" aspect of this book, you're going to spending a lot of time guessing and I want you to be shocked.
I did guess the ending, well at least in part so while I wasn't surprised, I don't think it took away from the ending. It was pretty messed up and really, the final part of the book still has me thinking a bit. Chilling. Also, I was SCARED at points reading this at night. I am so easy to spook at night about things like ghosts and things and the urban legends that appeared in this book were sometimes too much.
This review is a bit all over the place, but I don't want to give away one single hint about it to anyone. It's a great book, a great thriller and features a very real teenage topic: toxic friendships. I could NOT put down Little Monsters. Every spare minute that I had I was turning on my Kobo. I hardly ever read on my breaks at work but I couldn't stop with this book. I didn't think this was the perfect YA thriller, but I enjoyed it SO much and it definitely started off my 2018 reading year on a fantastic note.