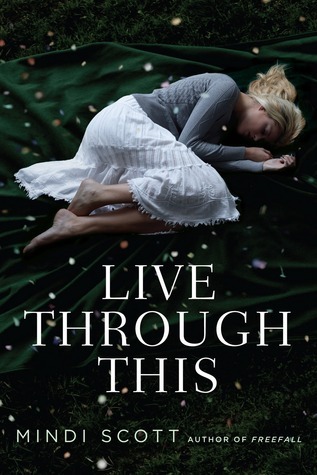 Pages: 304
Published: October 2nd 2012 by Simon Pulse
Series: N/A – Stand Alone
Source: Borrowed from library
Amazon | TBD | Kobo | Goodreads

If Coley Sterling's best friend would stop hating her, if her dance-team captains would lighten up, if her friends would stop asking her about Reece, the geeky sax player she's crushing on—then her life would be perfect. Right? After all, Coley's stepdad is a successful attorney who gives Coley and her siblings everything, and her mother will stop at nothing to keep them all happy and safe—including having escaped ten years ago from the abuse of Coley's real father.

But Coley is keeping a lot of secrets. She won't admit—not even to herself—that her almost-perfect life is her own carefully crafted façade. Now, Coley and Reece are getting closer, and a decade's worth of Coley's lies are on the verge of unraveling—along with the life she thought she knew.

Live Through This has been on my TBR for a while now… since before it was released actually. I didn't hesitate when I seen this at the library, I knew I had to pick it up and read it straight away.
Let's start with the characters before anything. Coley, the main character, besides having an awesome name was great. She was totally realistic for a teenager. Her emotions with dealing with her best friend, her first major boyfriend, her feelings toward her stepfather; it was all so true for a teenage girl. She was also an extremely raw character. Her constant personal battles with the abuse and her inner conversations almost forced me into tears so many times. Coley was so brave. So strong. A fantastic, well crafted main character. Reece, Coley's boyfriend was ADORABLE. I freaking loved this kid. He was so incredibly kind and sweet. All that aside my absolute favorite part about Reece was that he wasn't the popular boy. I loved that he was in a band, was a little bit geeky and more often than not, corny. I also really enjoyed the strong family presence in Live Through This. Coley's mother was just a great mom, and I loved that the parents were so present in this book. And the triplets. Gosh they were adorable… and hilarious! Brian(Coley's older brother) was hard to judge for me though. He was so standoffish throughout the novel and the real perspectives we had were from Coley flashbacks about previous times. It's obvious that Brian was really damaged from the previous years abuse.
Now… the pacing. I know this is a story about abuse so as I read I knew that the issue of abuse would eventually be confronted but for a large part of the novel I felt like it a love story. As much as I loved Reece, I wish that was not as big of a focus. I understand that the process of her falling in love for the first time is directly related to her abuse and her struggle with it but I just would have liked to see a much larger focus on the main topic at hand. It's not unlike, What Happens Next, which I also had the same problem with.
That being said, once the abuse came more to the forefront of the novel I was incredibly shocked at who the abuser was. I mean astonished. I was reading this on the train to work and literally had to go back several pages because I was certain I had missed something. I had a ton of guesses in my mind, and perhaps I overlooked dropped hints but I was stunned. And it absolutely crushed me. Once I realized what was happening, you would have been hard pressed to find me without tears every couple of pages.
The only other problem that I had with the novel was the ending. Now, don't get me wrong, the ending was fantastic and for a while I thought I would end the book with throwing it at the wall in frustration but it was done very well. I was satisfied with the outcome of the entire situation however I would have liked to have more. I don't want to spoil the ending so I have to be rather elusive but I would have liked to see the outcome after the fact.
Even with my issues, and I seem to be one of the only ones who didn't LOVE it, it's a fantastic book. I really enjoyed Mindi Scott's easy to read writing style and her character building was phenomenal. If you like contemporaries that deal with tough topics(sexual abuse) then I definitely recommend Live Through This. You won't be disappointed.



Happy Reading!

xo Lauren