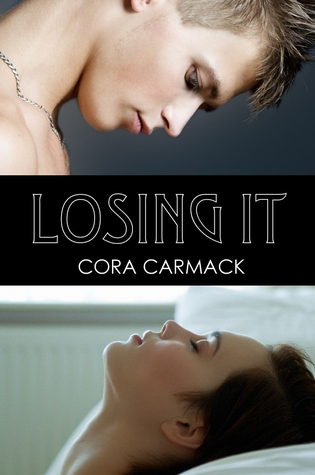 Pages: 288
Published: February 26th 2013 by William Morrow
# in Series: #1 in Losing It series
Source: William Morrow via Edelweiss
Amazon | The Book Depository | Chapters/Indigo | Kobo
"Virginity.

Bliss Edwards is about to graduate from college and still has hers. Sick of being the only virgin among her friends, she decides the best way to deal with the problem is to lose it as quickly and simply as possible– a one-night stand. But her plan turns out to be anything but simple when she freaks out and leaves a gorgeous guy alone and naked in her bed with an excuse that no one with half-a-brain would ever believe. And as if that weren't embarrassing enough, when she arrives for her first class of her last college semester, she recognizes her new theatre professor. She'd left him naked in her bed about 8 hours earlier."
My Thoughts & Review:
So I'm not even going to bother summarizing Losing It… the synopsis is so dead on that I'd basically be saying the same thing.
Bliss was so freakin hilarious. I loved her character through and through. She was so unique for a main character. She was insecure about the fact that she was a virgin but she was also a very strong person. Her insecurities basically ended at the virginity. She knew what she wanted to, and stuck to it. And she was funny. Just so funny. Half the time she was a rambling, blubbering mess which was so realistic. Her entire character and persona was entirely realistic, that's probably why I enjoyed her so much. As for Garrick… he was a great main character but I was disappointed that I didn't like him as much as other love interests. I don't even have a specific reason for not falling in love with him along with Bliss.. he was perfect: sweet, kind, handsome, a sexy accent… the full package. Now while I didn't fall head over heals with him, I did love him for Bliss.
I really enjoyed the plot of Losing It. I loved the idea that a 22-year-old still had their virginity and her "journey" of getting ready to lose it. Also… wow the sexual tension in this book is enough to drive YOU wild as a reader. It's written all over the pages, at times I just wanted to scream for Bliss to give in to Garrick!
Losing it was extremely easy to read, however at times it was slow going. It did pick up again though and I ended up adoring the ending. One aspect I didn't like though was the "love triangle". It felt like it was thrown into the story line; it did not add or really take away from any of the plot so I just did not enjoy it. I don't mind a love triangle when it's done correctly but this one provided no tension for me what so ever, it didn't keep you on the edge of your seat waiting for Bliss to choose.
Losing it was a fun, easy to read new adult novel. It was light-hearted, funny, sexy and a great addition to my contemporary romance collection. I absolutely recommend it to anyone that enjoys contemporary romance.
My Rating: