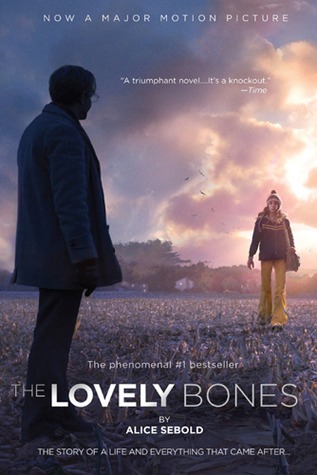 The Lovely Bones by Alice Sebold
Published by Little Brown and Company on July 3rd 2002
Pages: 326
Source: Borrowed
Add on Goodreads
Amazon•Kobo•TBD
My Rating:

"My name was Salmon, like the fish; first name, Susie. I was fourteen when I was murdered on December 6, 1973."

So begins the story of Susie Salmon, who is adjusting to her new home in heaven, a place that is not at all what she expected, even as she is watching life on earth continue without her -- her friends trading rumors about her disappearance, her killer trying to cover his tracks, her grief-stricken family unraveling. Out of unspeakable tragedy and loss, THE LOVELY BONES succeeds, miraculously, in building a tale filled with hope, humor, suspense, even joy.

The Lovely Bones is about Susie a young girl who was murdered and is now viewing Earth from Heaven. It shows the struggles that her family is facing with her being gone, her father's struggle with finding her killer, and all of the people she left behind dealing with letting her go.
How did I wait this long to read it? This book was such a heavy, emotional read but at the same time it didn't make you physically cry. Ghosts terrify me so that was one of the reasons I put it off for so long until my sister finally convinces me it wasn't really about ghosts. The writing was very beautiful and kept you hooked from page one.
All of the characters were very well-developed, there was nothing lacking in any of the characters personalities. My favorites were her sister Lindsay-who's struggle to come with Susie's death was so personal and quite, Ruth-the girl who was affected deeply my Susie's death but hardly knew her in life, and Susie's Dad-he reminded me a bit of my father and his struggle to deal with the death of his oldest daughter was so heartbreaking.
I was very satisfied with the ending. I thought everything came together really well and I loved how it ended with second to last scene being with Lindsay & Samuel. (Which I won't spoil for anyone that hasn't read it!!)
I would definitely recommend this book to anyone likes heartfelt and emotional driven books! It will make you very sad in parts but also very happy in other's!