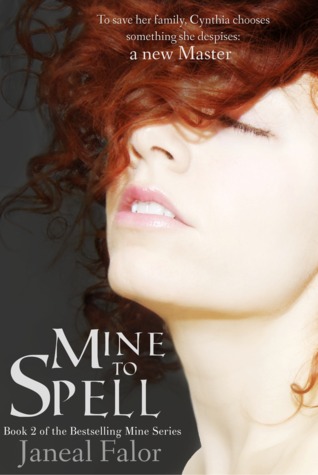 Pages: 291
Published: May 05th 2014 by Chardonian Press 
Series: Mine #2
Source: From author for review

Cynthia has always hidden from her father's hexes behind her older sister. When her family gains independence unheard of for women, she's relieved that her days of harsh punishments are over. But as her seventeenth birthday approaches—the typical age to be sold to a new master—death threats endanger her sisters. She now faces two options: run or meet society's expectations.

For once, Cynthia isn't going to let her older sister shield her from the problem. She's going to prove to herself, her sisters, and society that her family isn't a threat to their traditions. She willingly chooses to be purchased by a new master. A bold step that takes her somewhere she never thought she would go and to a man she might possibly fall in love with. With his help, she may just find a way to save her sisters while discovering how to stand up for herself. If she lives long enough.


I really loved You Are Mine  and I was definitely unsure of what would happen after the happenings of the first book so needless to say I was eager to get started on this one and see what had transpired after Serena's independence.
I was actually shocked to find out this was Cynthia's story! I do remember Cynthia from the first book, obviously, as she was Serena's younger sister but the two girls that stuck out strongly from the first book other than Serena were Katherine and Waverly. Despite not remember a lot about her, I was really antsy to jump into her story and see what role she played in it.
Although I didn't remember a lot about her, I quickly fell in love with her, just as I did with Serena. Actually I loved her even more than I did Serena. Cynthia was strong, courageous, bold and determined. She never held back from what she thought was right, despite living in the ever-awful Chardonia, and protecting the people she loved was always first in her mind. Katherine and Waverly were both back to play their fabulous parts and I LOVED that they made such a heavy appearance, especially Waverly. The men in this book were also so lovely. Chadwick, Zade, and of course Lucas stole my heart. Too bad all of the warlocks in this series couldn't take a page out of their book, but I suppose… there wouldn't be a story to tell then. Lucas and Cynthia's relationship warmed me, I loved seeing them get closer and Cynthia learning to trust a warlock and I really hope we get to see more of that play out in the third book.
I really enjoyed that although this is somewhat of a companion novel, as it features a different main character than You Are Mine, it really still reads like the second book in the series. The story is definitely focused more on Cynthia but you still get plenty of page time with her beloved sisters as well. Also, it doesn't lack the fluidness that companion novels sometimes do, where it seems that bits of the story are left out between characters.
The plot was fantastic, and really surprised me. The fact that females can do magic and the choice that Cynthia makes is brave and held my interest to the very last page. When I finished You Are Mine, I really didn't think this was the route that the story would take so I was so shocked and surprised and it THRILLED me. The pacing, at times, was a bit slow but I think that was due to the anticipation of the upcoming tournament, I just couldn't wait to see what was going to unfold.
The ending was bittersweet. I loved it in parts, of course, but it also saddened me. I really hope that the girls, and woman of Chardonia will make it out of this alright. I cannot wait to read the next book in the series, I am so anxious to see what happens and delve even deeper in this story and world.