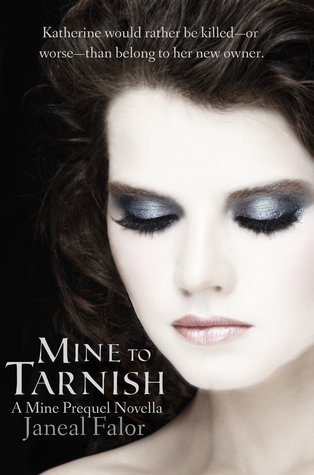 Pages: 128
Published: December 02nd 2013 by Chardonian Press
Series: Mine  #0.5
Source: Free on Kindle

Katherine's place is the same as any woman's—on the shelf next to the dresses and bolts of cloth. When she's sold to a warlock, life grows even bleaker. Her new owner is as old and rancid as he is cruel, driving her to do the unthinkable: run.

Nothing prepared her for being on her own. And she's definitely unprepared for the warlocks hunting her down. But she must stay one step ahead because if caught, the best she can hope for is death.


Katherine was, by far, my favorite character in You Are Mine so when I seen that she was the focus of this novella I was over the freaking moon!
In You Are Mine, we see Katherine as she is now: tarnished. In Mine to Tarnish, Katherine is still living under her parents roof, and going to lessons so it tells her story of how she got to where she is currently.
I don't want to say too much, and spoil this novella but it's definitely a must read if you like this series. It is such a strong story, despite being a novella and really shows us in full of how and why Katherine is tarnished and why she is so strong with fighting against the warlocks. Also… Charles. Seriously… Charles <3
I read this in one sitting, and my heart was in my throat nearly 90% of the time. It's heartbreaking, and joyful all rolled into one. Janeal Falor does a fantastic job of bringing Katherine to life in Mine to Tarnish and this story makes me adore her even MORE!