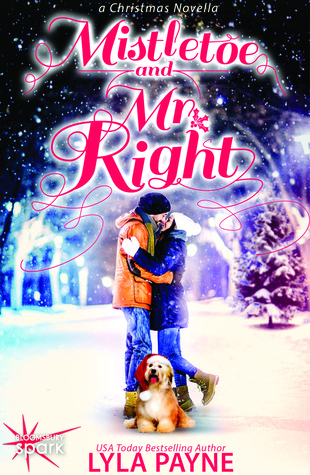 Mistletoe and Mr. Right by Lyla Payne
Published by Bloomsbury Spark on November 20th 2014
Pages: 150
Source: Bloomsbury USA Children's via Netgalley
Add on Goodreads
Amazon•Kobo
My Rating:

Twas the night before Christmas and all through the house, not a creature was stirring…but lust refused to settle in for a long winter's nap.
She might be all nestled, snug in her bed, by why, oh why, do visions of the wrong guy dance in her head?

Jessica, (not Jessie), figures that nothing could be better than a trip to the Emerald Isle for Christmas break. So she takes a flying leap and follows her boyfriend home for the holidays, not only sure that he will finally agree they're destined for each other, but also that Ireland will provide the perfect backdrop to the beginning of their happily-ever-after.

But it turns out his family--and his gorgeous ex-girlfriend--don't feel the same way, and even the family goat seems to be conspiring against her well-laid plans. The only person making the trip worthwhile is the very last one she should be thinking about, but Grady, the local farmhand, has a way of showing up when Jessica needs him most...and least.

USA Today bestselling author Lyla Payne wraps up the perfect holiday novella, ties it with a ribbon of romance, and tops it with a light dusting of snow. Perfect to curl up with under the tree. Just add hot cocoa!


I was excited to read this one over the holiday's. I normally don't have a ton of time to read over Christmas because of all the things going on, but I do like to read when I can and since this was less than 200 pages, I was eager to pick this one up. Especially since it's set in Ireland!
Jessica was a bit infuriating at times. She was really stubborn and I thought some of her decisions were strange. I also thought that the fact she flew to Ireland to surprise her boyfriend at Christmas (even though they were dating for only four months) was a bit forward. Despite her flaws I did like her, and I especially liked when she went off with Grady throughout the book. I thought Brennan was a bit of an ass to be honest. I know that he had a long history with Katie but I think he should have been a bit more straight forward with Jessica about their previous relationship and also draw a few lines in the present. Brennan's family was kind of rude as well, although I did love his grandfather. I thought they were quite standoffish to Katie so I didn't really think much of them. Katie was just odd to agree to come into that situation knowing that her ex's new girlfriend was over… that was just strange. Grady was sexy and nice and I really liked his bluntness. He was obviously the shining star of the story 😛
I really liked the story, it flowed nicely, and despite being short there was a lot packed into the pages. I thought the ending was fabulous and wrapped up in a fantastic way … and just how I would have liked it to! I was hoping because this was a holiday story that it would be a feel good type of story at the end and that's exactly what I got! Despite my issues with some of the characters, I really enjoyed it.
Mistletoe and Mr. Right is just the perfect dose of feel good that you want to read during the holiday season. It has romance, humor, heart and is the perfect length for a quick holiday read! I definitely recommend this one for your Christmas reading list for next year 🙂