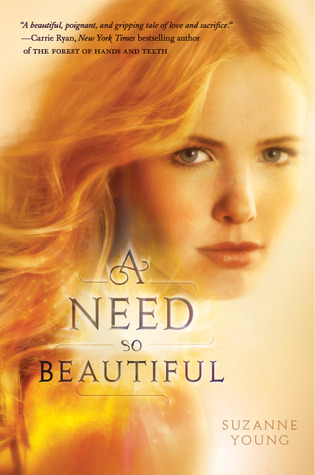 A Need So Beautiful by Suzanne Young
Series: A Need So Beautiful #1
Published by Balzer + Bray on June 21st 2011
Pages: 267
Source: Purchased at Chapters Indigo
Add on Goodreads
Amazon•Kobo•TBD
My Rating:

We all want to be remembered. Charlotte's destiny is to be Forgotten...

Charlotte's best friend thinks Charlotte might be psychic. Her boyfriend thinks she's cheating on him. But Charlotte knows what's really wrong: She is one of the Forgotten, a kind of angel on earth, who feels the Need—a powerful, uncontrollable draw to help someone, usually a stranger.

But Charlotte never wanted this responsibility. What she wants is to help her best friend, whose life is spiraling out of control. She wants to lie in her boyfriend's arms forever. But as the Need grows stronger, it begins to take a dangerous toll on Charlotte. And who she was, is, and will become--her mark on this earth, her very existence--is in jeopardy of disappearing completely.

Charlotte will be forced to choose: Should she embrace her fate as a Forgotten, a fate that promises to rip her from the lives of those she loves forever? Or is she willing to fight against her destiny--no matter how dark the consequences.

I started reading A Need So Beautiful back in June. I didn't really know what it was about, I had found it because it showed up in my Goodreads recommendations and it seemed interesting enough. OK and I'm not even going to lie the cover is
beautiful
. 
I mistakenly started reading this right before my vacation. I was so busy during my holidays that I wasn't able to focus on the book and really dive into the story. And what a shame – this book was astonishingly good. 
Suzanne Young does such a wonderful job describing the characters, their feelings, their relationships and their surroundings.
A Need So Beautiful is about  girl named Charlotte who experiences what she calls "The Need".  The Need draws and pulls her towards people who need guidance or help. Whenever Charlotte tries to resist the need or go immediately toward the need she experiences immense pain. She needs to hide this from her friends, family and even her boyfriend, Harlin as no one knows what she is going through and Charlotte feels that they will think she is crazy. As the Need starts to get stronger and stronger, things start to happen to Charlotte and she finds herself in the middle of something she has little to no control over. 
I do not want to give too much away as this is an amazing book with a very good ending and it would be a tragedy to ruin this for anyone that wants to read it.  
The only thing I did not like about this book was that she did not trust her boyfriend Harlin enough to tell him what she was going through.  I thought this was somewhat contradictory as throughout the whole book Charlotte is always refers to how wonderful their relationship and Harlin is her soul mate.
The ending threw me… I was not expecting the book to end like it did and I was sobbing. Crying so hard, and not in a bad way as I thought it had a great ending. Again I do not want to reveal why because I want this to be spoiler free 🙂 
I cannot wait to read A Want So Wicked, the second book in the series.