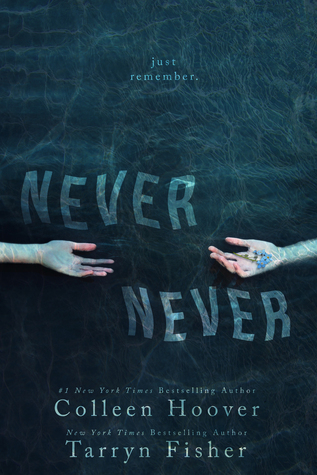 Never Never by Colleen Hoover, Tarryn Fisher
Published by Hoover Ink on January 07th 2015
Pages: 140
Source: Purchased on Kindle
Add on Goodreads
Amazon
My Rating:

Best friends since they could walk.
In love since the age of fourteen. 
Complete strangers since this morning.

He'll do anything to remember. She'll do anything to forget.


I'm not even sure I can put into words how excited I felt when I seen that Colleen Hoover & Tarryn Fisher were collaborating on a book. I have loved everything I have read by Colleen Hoover and Tarryn Fisher's The Opportunist blew me away as one of my first reads of 2014 so I knew I would be reading this as soon as it was released.
Charlie and Silas are the main characters are apparently they have been in love since childhood. There are quite a few revelations that take place throughout the story so I'm not going to delve too deep into their relationships and such because I think it would take away a large aspect of the story. I liked Silas quite a bit, and I am just sort of neutral about Charlie at this point. Silas seems like a really nice guy, but Charlie seems like she might not be the greatest person. It's tough to say though, and I'm sure more will be revealed about them in the next book.
I did find it kind of odd that neither Charlie or Silas told anyone that they are having some sort of memory issue. It just seemed strange to me that they wouldn't confide in someone about what is happening. There are definitely some holes I found in the plot, but I didn't really care about them as I was reading. Never Never is such a page turner that I basically ignored any of that as I was reading because I just needed to keep reading and find out what was happening.
Never Never is definitely a unique plot. I can't say I have read anything like this (or right now at least), I was guessing and mystified the entire book and I LOVED that. I loved the writing, which wasn't a surprise, seeing how I adore both authors, and I think Hoover & Fisher make a fantastic duo!
Holy SHIT, what a freaking ending. If there is every a cliffhanger that makes you want the sequel NOW, it is Never Never. I have no idea how I am going to be able to wait until May with the bomb that's dropped at the end!
It's safe to say that I am invested in this series and I, once again, will be reading this as soon as it's released!