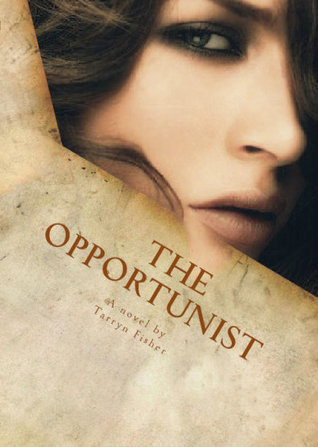 The Opportunist by Tarryn Fisher
Series: Love Me With Lies #1
Published by Self Published on February 3rd 2013
Pages: 427
Source: Purchased on Kindle
Add on Goodreads
Amazon•Kobo
My Rating:

Olivia Kaspen is a sharp tongued manipulator used to always getting what she wants. With just one exception-Caleb Drake, the one she foolishly let slip away. After a chance encounter brings Caleb back into her life, Olivia finds herself wanting a second chance with her first love, and asking herself how far she is willing to go to get him back. Her only problem is a red head named Leah, Caleb's new love. Olivia must fight for what was once hers, and in the process discover that sometimes love falls short of redemption.


When I seen Betty's review of the Opportunist, I knew I had to pick this up. It sounded amazing and the perfect way to start off the new year of reading. And let me tell you, she was sooo sooo right.
The Opportunist was just… wow. I thought it would be impossible to fall in love with the main characters; they lie, they cheat, they are all over the place but by the end of the story you are attached to them in a weird way only amazing writing and character development can do.
Olivia is one giant mind fuck. I have no other way to describe her other than that. She is completely unhinged when it comes to Caleb. I really, really just GOT Olivia… she struck a personal cord for me because I just understood why she felt like this about him. It reminded me a lot of a previous relationship when I was younger, and as crazy as she acted… it was all for love. She is addicted to Caleb in such a way that he completely consumes her life. Cammie, her best friend, is amazing. She is everything you'd want in a best friend. Cammie gets mixed up in the outlandish situations Olivia gets her in and would go to bat and beyond for her. Caleb, is… well Caleb. And Leah. She is a wretched cow honestly. Manipulative, evil… totally unlikable. The characters are loveable and terrible and just totally addictive!
I loved the way the story was told, with the then and now back and forth it really pieced the story together. In the "now" you are seeing Olivia, three years out for her relationship and she has pieced her life back together. In the "then" you are watching Olivia and Caleb's first encounter, the start of the relationship and the up and downs and eventual end. It's not told together, the chapters skip back and forth, and because of this writing style it's almost impossible to put it down.

The Opportunist is such a hard novel to review. I read this at the first of January and I still can't piece together the words to explain just HOW much of an amazing book this is. The story is fantastic and full of twists. It's a story of love, a story of hate and just all around amazing.
It's unbelievable and I think everyone needs to give this one a chance. It not only has an entirely separate storyline from most of New Adult, but it's both character and plot driven and the combination is phenomenal. It will leave you emotionally reeling because of the intensity. Seriously.