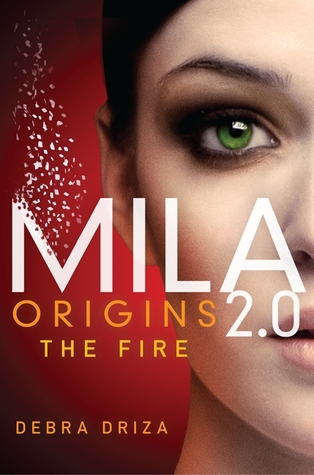 Pages: 15
Published: January 13th 2013 by Katherine Tegan Books
# in Series: #0.5 in Mila 2.0
Source: Free on Amazon
Amazon | Kobo *Get this for free on both Amazon & Kobo*
"Heart-stopping and electric, MILA 2.0: Origins: The Fire contains a short prequel story and an excerpt to MILA 2.0, the first book in a riveting Bourne Identity–style trilogy by Debra Driza.

Mila can't remember anything before the fire that took her father's life. It's normal to have some memory loss after traumatic events, but Mila doesn't remember if she's ever learned to ride a bike, or if she's ever been in love. Nothing.

What she doesn't know is that she isn't supposed to remember—that she was built in a computer science lab and programmed to forget. Because if she remembers, she might discover her true identity.

The question is: If she relived the fire, what would she see?"
My Thoughts & Review:
I'm not sure if this impacts my thoughts because I read this after Mila 2.0 but Origins: The Fire has me super excited for the second book.
In Origins: The Fire, Mila wakes up to her house on fire. She gets outside, and then realizes that her parents are home so she rushes back in to try to wake them up and save their lives. That's really all I'm going to say as this is a super short novella and any more will basically be the story line.
This prequel was fast-paces, action packed and I think that if I had of read this before Mila 2.0 I would have had to rush directly right into the main novel. It really does a great job of setting up one of the main plot points for the first book as Mila has lost her memory from the fire that killed her father. Now… if you read Mila 2.0 you learn some things about Mila and her life, so to read this afterwards really intrigues me. Where is this story going to go?
I think this was a great novella. The only reason I gave it 4 stars is due to the shortness. I wish it had a bit more… it really leaves you hanging where it ends off.
I 100% recommend this for anyone that wants to read Mila 2.0! Great addition to this series.
My Rating:

Happy Reading!
xo Lauren