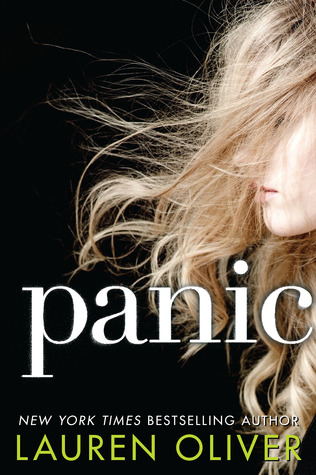 Pages: 416
Publication Date: March 4th 2014 by HarperCollins 
Series: N/A – Stand Alone
Source: HarperCollins via Edelweiss
Amazon • TBD • Kobo • Goodreads

Panic began as so many things do in Carp, a dead-end town of 12,000 people in the middle of nowhere: because it was summer, and there was nothing else to do.

Heather never thought she would compete in Panic, a legendary game played by graduating seniors, where the stakes are high and the payoff is even higher. She'd never thought of herself as fearless, the kind of person who would fight to stand out. But when she finds something, and someone, to fight for, she will discover that she is braver than she ever thought.

Dodge has never been afraid of Panic. His secret will fuel him, and get him all the way through the game, he's sure of it. But what he doesn't know is that he's not the only one with a secret. Everyone has something to play for.

For Heather and Dodge, the game will bring new alliances, unexpected revelations, and the possibility of first love for each of them—and the knowledge that sometimes the very things we fear are those we need the most.


I was so excited to get an eARC of Panic; Lauren Oliver is by far one of my favorite authors and after Requiem being my most anticipated book of 2013, I was itching to get wrapped up in another one of her stories.
My first impression of Panic was surprise honestly. I have no idea why I thought this, but I was shocked that this was a contemporary! For some reason I thought it was another dystopian so I was actually pleasantly surprised to find out it was a contemporary!
Panic is a game that seniors play the summer after they graduate. It's risky, scary and basically all about what it says … Panic. The story is told in dual point of views, Heather's and Dodge's. They are both competing in Panic and both for very different reasons.
I had a very, very hard time with these characters. It took me a long time to warm up to Heather, I didn't find her unlikable exactly but I found her bland and boring. I eventually did start to like her and her relationship with her younger sister was endearing and lovely. Her decision-making  was completely askew although I supposed that could be accounted for her terrible home life. Dodge, I didn't like, and I didn't ever end up liking him. He was completely warped. Because he was so messed up, even when he did somewhat nice things, I couldn't warm up to him at all. Natalie, Heather's best friend was selfish and Bishop, her other best friend was probably the most likeable character of all. He wasn't a favorite of mine, and I will most likely forget I liked him in the future but while I was reading I did enjoy him. I think one of the most difficult things about these characters is that they all had an incredibly poor moral compass. Every single one of them had such poor judgement, the decisions and situations they were in unbelievable. I won't go into detail because a lot of it had to do with Panic but honestly, I found it extremely hard to believe that you would put yourself into some of these life threatening situations for money.
The story itself however drew me in immediately. I can't even pinpoint what it was other than pure curiosity to see how the story would end. I was entirely into this story until the very last page, the game Panic, while absolutely ridiculous was also equally thrilling. On of my main dislikes about the book though was the predictability. I could see where the story was going before it got there, and only the final few pages had me unsure of what would happen.
Another aspect that turned me off from loving this book, and this is upon reflection the following days, is the memorability. Unfortunatly for me Panic, and the thrill that I felt when reading it, especially in the last few chapters… went away. It is almost forgettable. I actually could not remember if there were two POV's or three POV's, I had to go back to my Kindle to doublecheck! When I finished Panic, I knew this was going to be one that I would have to mull over before writing my review or rating it and ultimately, after my excitement died down, I didn't love it as much as I expected to. I find this is a trend for Lauren Oliver books with me: I get so entirely swept up with her writing, her prose and her stories that when I finish, it's like I'm mixed up. I thought I hated Delirium when I finished it, then after a bit of reflection, I realized I was in LOVE with it… that's how strong the emotion was. Before I Fall, I finished and was an emotional wreck but thought I loved it… and then days later I found a lot of things I didn't love. Now obviously this practice didn't go entirely in Panic's favor however it does attest to Oliver's writing. She's a beautiful writer and her stories are captivating when your reading them.
Despite my issues with Panic, it was a really good story. It was thrilling when it needed to be, had an interesting and unique concept and had me clinging onto the story until the very last word.