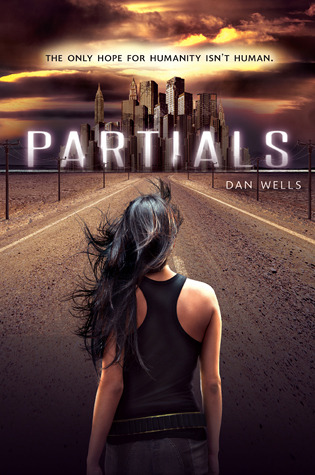 Partials by Dan Wells
Series: Partials Sequence #1
Published by Balzer + Bray on February 28th 2012
Pages: 468
Source: Purchased at Worlds Biggest Bookstore
Add on Goodreads
Amazon•Kobo•TBD
My Rating:

Humanity is all but extinguished after a war with partials—engineered organic beings identical to humans—has decimated the world's population. Reduced to only tens of thousands by a weaponized virus to which only a fraction of humanity is immune, the survivors in North America have huddled together on Long Island. The threat of the partials is still imminent, but, worse, no baby has been born immune to the disease in over a decade. Humanity's time is running out.

When sixteen-year-old Kira learns of her best friend's pregnancy, she's determined to find a solution. Then one rash decision forces Kira to flee her community with the unlikeliest of allies. As she tries desperately to save what is left of her race, she discovers that the survival of both humans and partials rests in her attempts to answer questions of the war's origin that she never knew to ask.

Combining the fast-paced action of The Hunger Games with the provocative themes of Battlestar Galactica, Partials is a pulse-pounding journey into a world where the very concept of what it means to be human is in question—one where our sense of humanity is both our greatest liability, and our only hope for survival.


Lately I've been interested in a lot of different types of books-ones I previously never would have cast a second glance at. Partials is one of those books. A year ago I never would have dreamed of reading a post-apocalyptic book about engineered organic beings! I'm glad that I've started to broaden my interests as Partials was a great read and shouldn't be missed!
The first part of the book was extremely slow-paced for me however. It explains quite a bit about why the world is in the disarray that it is, and of Kira and her family.  You will learn a lot of the characters in the first section which is good because at least they are well-developed. Kira is the main character and she was an incredibly strong-minded, positive, female character. I felt there was something missing though, like there was more to her that wasn't being said. And I certainly found out why in the third part of the book but I won't reveal that as that will spoil everything!
The second part of the book was much more fast paced and to be honest, I was reading this for a read a long and did an awful job with keeping to the schedule! I just wanted to keep reading-which I did! We are also introduced to Maxx in the second part, a partial. I know the story is designed to make you hate Partials but I immediately fell in love with him! I really liked how he had a soft spot for Kira and eventually started to give her answers.
The third part of the book is extremely fast paced and you won't be able to put it down. I can't reveal anything about it because the entire third section would be spoiler after to spoiler!
Dan Wells is a fantastic writer and he does an excellent job of weaving you into a story you won't be able to put down.
I can't wait till the second book 🙂