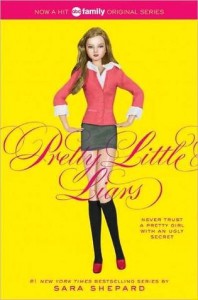 Pages: 286
Published: August 21st 2007 by HarperTeen
# in Series: 1st in Pretty Little Liars Series
Source: Purchased at Chapters Indigo
The Book Depository // Amazon // Chapters Indigo
 Summary from Goodreads:

"Everyone has something to hide-especially high school juniors Spencer, Aria, Emily and Hanna.

Spencer covets her sister's boyfriend. Aria's fantasizing about her English teacher. Emily's crushing on the new girl at school. Hanna uses some ugly tricks to stay beautiful. But they've all kept an even bigger secret since their friend Alison vanished. 
How do I know? Because I know everything about the bad girls they were, the naughty girls they are, and the dirty secrets they've kept. And guess what? I'm telling.
-A"
My Thoughts & Review:
 Pretty Little Liars as about 4 (old) best friends: Spencer, Aria, Emily & Hanna.  3 years before the fifth member of their group, Alison went missing and has yet to be found.  Once Alison went missing the girls went their separate ways and no longer hang out together but each girl is now receiving suspicious messages from "A".  The secrets that are being exposed are only things that Alison knew about the girls.
I went into this book with high, very high expectations. That is probably my own fault as I should have known it's not going to be the same as the TV Show.  Let me just say that Pretty Little Liars(the TV show) is one of my favorite shows right now. The book was a lot different from the show.  The way the girls look is also very different so I found it so hard to try re-envision them as the way they were described in the books.
The story was really hard to concentrate on.  I expected it to be really fast-moving and easy to read but it actually took me quite a while to get through.  I also found the characters somewhat annoying! Hanna really irritated me which is odd because in the show she is my favorite.  I also thought it was so weird that Aria's parents wanted her to call them by their real names.
All in all I did like this book but I don't think I will be purchasing the rest. I really wish that I had read this before I watched the show because I think I would have enjoyed it a lot more.   I will continue the series as I heard later on quite a few things are different from the show but I think I'll be borrowing them from the library instead.
My Rating:


Happy Reading!