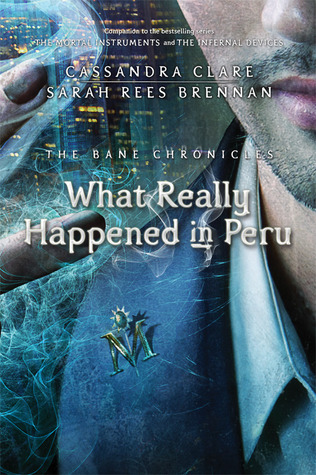 Pages: 65
Published: April 16th 2013 by Margaret K. McElderry 
Series: The Bane Chronicles #1
Source: PulseIt

There are good reasons Peru is off-limits to Magnus Bane. Follow Magnus's Peruvian escapades as he drags his fellow warlocks Ragnor Fell and Catarina Loss into trouble, learns several instruments (which he plays shockingly), dances (which he does shockingly), and disgraces his host nation by doing something unspeakable to the Nazca Lines.

This standalone e-only short story illuminates the life of the enigmatic Magnus Bane, whose alluring personality populates the pages of the #1 New York Times bestselling series, The Mortal Instruments and The Infernal Devices series. This story in The Bane Chronicles, What Really Happened in Peru, is written by Sarah Rees Brennan and Cassandra Clare.


When I heard that there was going to be a novella series all about Magnus Bane I was floored. Magnus is one of my favorite supporting characters in The Infernal Devices and The Mortal Instruments series and I was itching to learn more about him. I was going to hold off until the novella's were published together, because the cost of novella's are often not worth it for me, but PulseIt had the first one available as a read now so I dove in.
It's hard to review novella's because I don't want to tell the whole story but I want to give enough details for you to decide whether you will love it or leave it. One thing I did enjoy is that the length of What Really Happened In Peru was satisfying. It wasn't super short and the length was perfect for the story being told.
What Really Happened in Peru wasn't just focused on Magnus; Catarina Loss and Ragnor Fell were both featured in the first installment of the series. Ragnor played a part in both main series so I enjoyed seeing him from another point of view, and focused a bit more on his personality.
I thought What Really Happened In Peru was a fun read although I find it hard to think that anything focused on Magnus Bane would be anything but fun. I enjoyed the story quite a bit and while its a great addition to this world it's entirely not necessary to read. I would recommend reading this of you love the shadowhunter and downworlder world but I would recommend holding off until the stories are published together, that's what I will be doing.