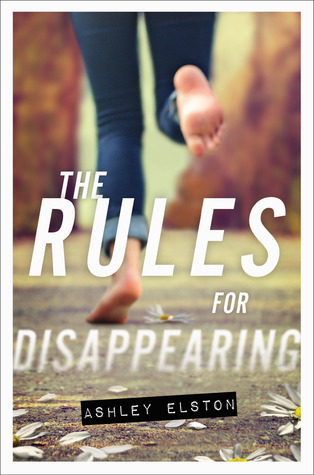 Pages: 320
Published: May 14th 2013 by Disney-Hyperion
Series: The Rules for Disappearing #1
Source: Borrowed from the library
Amazon | TBD | Kobo | Goodreads

She's been six different people in six different places: Madeline in Ohio, Isabelle in Missouri, Olivia in Kentucky . . . But now that she's been transplanted to rural Louisiana, she has decided that this fake identity will be her last.

Witness Protection has taken nearly everything from her. But for now, they've given her a new name, Megan Rose Jones, and a horrible hair color. For the past eight months, Meg has begged her father to answer one question: What on earth did he do – or see – that landed them in this god-awful mess? Meg has just about had it with all the Suits' rules — and her dad's silence. If he won't help, it's time she got some answers for herself.

But Meg isn't counting on Ethan Landry, an adorable Louisiana farm boy who's too smart for his own good. He knows Meg is hiding something big. And it just might get both of them killed. As they embark on a perilous journey to free her family once and for all, Meg discovers that there's only one rule that really matters — survival.


I was really excited to read The Rules for Disappearing when I first heard about it. The witness protection program aspect sounded really interesting and the thriller type contemporary (with a little bit of romance of course) sounded like a great way to break up my summer reading list!
I'm going to go into this straight away by saying that I didn't love Meg. I liked her at times but I often wanted to scream at her. I could not relate with her decisions or rationality(or lack there of rather) at all. Now granted, I have never been in the witness protection program or shipped to so many different towns/schools in such a short amount of time but just the way she generally treated people, especially her father and mother enraged me. I obviously understand why she acted out but I just wanted her to see for a minute the type of pain her parents must be in as well. Anyways, that aside, I loved Meg's relationship with her sister. It was so sweet, so loving and I really enjoyed the sisterly bond and watching their relationship progress. I also really enjoyed Ethan. I liked the fact that Meg did not want to get close to anyone so that prevented the insta love aspect from happening. To watch Ethan fawn over her and then Meg slowly get attached was refreshing as I just see way too much instalove right now.
The mystery/thriller aspect was slightly disappointing. I immediately knew what was happening as soon as the signs were there so I was just basically reading to watch it unfold. Aside from the fact that I knew what was going to happen, it was interesting to see what routes Meg was going to take with dealing as well as Ethan's part. Oh, and can I just say that I love the setting <3 *swoon* I love southern settings so I'm glad that is where Meg's family was situated for The Rules for Disappearing.
All in all, it was a satisfying read. Ashley Elston has a wonderful writing style that is incredibly easy to read and despite being able to guess the outcome, she still had me drawn into the story. I loved the cliffhanger ending and I'm looking forward to reading the sequel. If you love a bit of romance in your thrillers, The Rules for Disappearing is definitely one you should check out 🙂