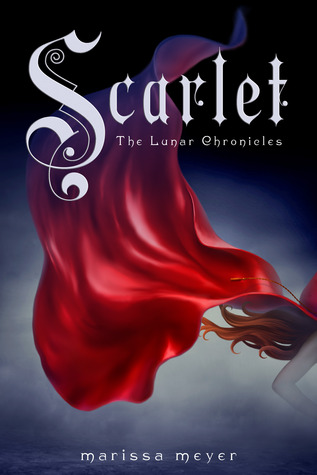 Pages: 452
Published: February 05th 2013 by Feiwel & Friends 
Series: Lunar Chronicles #2 
Source: Purchased at Coles
Amazon | TBD | Kobo | Goodreads

The fates of Cinder and Scarlet collide as a Lunar threat spreads across the Earth…

Cinder, the cyborg mechanic, returns in the second thrilling installment of the bestselling Lunar Chronicles. She's trying to break out of prison—even though if she succeeds, she'll be the Commonwealth's most wanted fugitive.

Halfway around the world, Scarlet Benoit's grandmother is missing. It turns out there are many things Scarlet doesn't know about her grandmother or the grave danger she has lived in her whole life. When Scarlet encounters Wolf, a street fighter who may have information as to her grandmother's whereabouts, she is loath to trust this stranger, but is inexplicably drawn to him, and he to her. As Scarlet and Wolf unravel one mystery, they encounter another when they meet Cinder. Now, all of them must stay one step ahead of the vicious Lunar Queen Levana, who will do anything for the handsome Prince Kai to become her husband, her king, her prisoner.

 A new main character, Scarlet(hence the name) is introduced in the second installment of the Lunar Chronicles. I was nervous that I wouldn't fall in love with Scarlet the way I did Cinder but that shouldn't have been a worry, I absolutely adored this new main character. Scarlet was perfect to me, she was strong, willful and determined. She was a bit hotheaded at times and I found that endearing. I also appreciated her love for her grandmother, she was Scarlet's rock and knowing that she had to find her grandmother really kept Scarlet pushing forward even in tough situations. I also really adored Wolf. I knew there was going to be something sneaky and underhanded about him due to his namesake but I didn't realize how much I would like him. I found him tough but he had this underlying softness for Scarlet that I really enjoyed.
Due to the fact that I read The Queen's Army in the middle of reading Scarlet, I basically figured out where the plot was going. That being said, it didn't take away from it and I highly recommend reading The Queen's Army before beginning Scarlet. It really gives you a window into the secretive and animalistic world of the queen's army.
I was beyond ecstatic that Cinder was featured so much. I knew that she was obviously going to have a part in the story but I didn't realize just how much and that was a pleasant surprise for me. I loved that the chapters alternated every so often back and forth between Cinder's story and Scarlet's story which ultimately is the same one but it helps to bring it all together. My favorite part in the entire book would have to be when Iko came back. I LOVED this android with the big personality and it near drove me to tears when she came back to life in Scarlet 🙂
Back in March when Merin and I finished our read-along for Cinder we were dying to pick up Scarlet… and we just finished this past weekend. Scarlet just didn't have the same pull on me that Cinder had. I thought Cinder was refreshing and a completely different type of book than I expected and normally read. Scarlet was fantastic, don't get me wrong on that, but it didn't have that same engrossing factor for me that Cinder did. The plot was good but more predictable than Cinder and I had no problem putting this one down(obviously). There was more action in Scarlet though so that kept the book moving and Meyer has the art of ending a chapter down to perfection because as soon as it was a cliffhanger part with Scarlet, she'd throw in a Cinder chapter 😛
Despite those points, I still really enjoyed Scarlet and I'm even more excited for Cress. I think Cress will be really action packed because of the way Scarlet ended. Marissa Meyer really knows how to create wonderfully addictive characters. Even after two books I just want more and more.
If you read Cinder you need to read Scarlet, I just don't think it's a sequel that you need to rush into right away.
Be sure to hop over to Merin's review of Scarlet at Read and Reviewed !!!