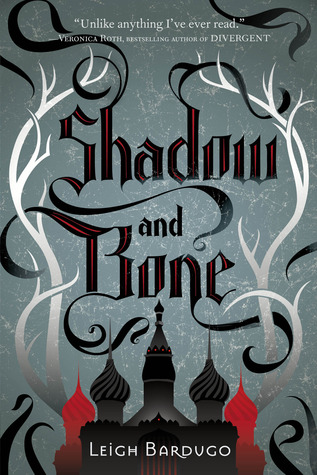 Pages: 358
Published: June 05th 2012 by Henry Holt and Co 
Series: The Grisha #1
Source: Purchased at Book Outlet
Amazon • TBD • Kobo • Goodreads

The Shadow Fold, a swathe of impenetrable darkness, crawling with monsters that feast on human flesh, is slowly destroying the once-great nation of Ravka.

Alina, a pale, lonely orphan, discovers a unique power that thrusts her into the lavish world of the kingdom's magical elite—the Grisha. Could she be the key to unravelling the dark fabric of the Shadow Fold and setting Ravka free?

The Darkling, a creature of seductive charm and terrifying power, leader of the Grisha. If Alina is to fulfill her destiny, she must discover how to unlock her gift and face up to her dangerous attraction to him.

But what of Mal, Alina's childhood best friend? As Alina contemplates her dazzling new future, why can't she ever quite forget him?


*This review contains spoilers… because in all actuality, if you haven't read this yet STOP READING AND GO PICK IT UP!*
I haven't been shy about my back and forth battle with reading Shadow and Bone. I'm just NOT a fantasy reader. I appreciate the genre (maybe even more so than any other genre because OH! the details that go into fantasy) but for some reason I just cannot get into it. The world building and details often confuse me and I have a hard time finding any semblance of reality in it. And yes, I understand that my favorite genre has vampires and werewolves frequently 😛 I tried Seraphina in 2012 and DNF'd it, not because it wasn't very well written and an interesting story but I just did not GET it and felt confused the entire time. Cass… and Judith… and Betty… and practically everyone else in the book blogging community have been raving and raving about this book and I kept putting it off… saying I would read it… and putting it off again. Frankly, I was terrified that I would be the LONE person who despised it and I'd be hanging my head in shame at the awfulness of it. Finally randomly one night, without telling anyone, I said… I'm going to do this… right now. And I did…

Shadow and Bone opens up to a scene in Alina's childhood. Her and Mal, are at the orphanage where they are raised, when The Grisha come to test them for powers. We are then thrown right into their current day when they are trying to cross The Shadow Fold with their military troops. This leads me to my first impressions of S&B… I found the world building, while different from what I'm used to, very, very easy to understand. I didn't feel like I was being info dumped and that it was so complex I couldn't understand it. I also loved the pacing of the book immediately, at no point did I find it slow. In fact, I found it incredibly hard to put down because I felt like we were constantly transitioning from one important scene to another.
Alina was PHENOMENAL. Seriously, could there be a more amazing main character? She was strong, smart, powerful and KICK FREAKING ASS. I loved watching her build relationships, reflect on the ones she had and struggle through her newfound powers. Mal was just "meh". I KNOW. I've gotten a lot of flack for this one but he was just kind of mediocre. Despite him being blah and I'm-totally-on-team-darkling, I did like him. I loved him and Alina's relationship and how protective he was of her. I appreciate that because he loves Alina. And she's my fav 😛 And MY HUSBAND… the Darkling. Hello?! Does anyone dislike this guy? Because if you do… leave. He's amazing, and I have no problem with that minor issue he has with being evil. I'm certain he will overcome that, it's just a slight personality flaw and LEIGH BARDUGO WOULD NOT DO THAT TO US! He's sexy too. *swoon*. And then we have Genya. Oh my gosh, did I love Genya. She was just AWESOME. I loved how she was a friend for Alina when she was alone and of course I enjoyed her snark.
Ravka was awesome. Well, Ravka minus The Shadow Fold was awesome. Out of all the reservations I had with reading Shadow and Bone initially, the world building was my biggest. It was silly honestly, because the explanations are wonderful. I had such a perfect image of what it would look like, and the castle and unfortunately even The Shadow Fold. The Little Palace just seems so wonderful, and the grounds and all of The Grisha that live there. It sounds amazing, and I wish I could have stayed there forever. The Shadow Fold was also explained so vividly that I had goosebumps. Flesh eating vultures in the pitch black? TERRIFYING!
My absolute favorite, favorite element of the entire book was The Grisha. I love magic… it's my favorite subject in books and that theme continued with S&B. Now, I was INSANELY confused at first. I had no idea what the names of the magic levels were, and who wore what colors, and what were Heartrenders? I actually had a post-it in the first page of the book so I could flip back and forth to the chart and once I finally understood it, it was AWESOME! I loved the intricacy and imagination and uniqueness that were The Grisha. It was an entirely new type of magic so that fact alone made it even more fun to read and learn about.

The ending was gripping, and terrifying and marvelous and just PERFECT. If you are getting the idea, I disliked NOTHING about Shadow and Bone. Nothing. I want to read about this world forever. I loved the characters, the world building, the writing, the magic.
Prior to Shadow and Bone, it had been a LONG time since I didn't fall victim of overhyped books. I often find faults in books that others LOVED, but it didn't happen here. It really is as good as everyone says. I had so much fun on Twitter with everyone who had read it and I missed doing that so much. And then I got to do it all over again when Ellice read it last week.
It's ironic that a book I thought I would hate turned out to already be one of my favorites for 2014, and it has been my funniest review I've written in a while.
*tips hat to Leigh Bardugo*.