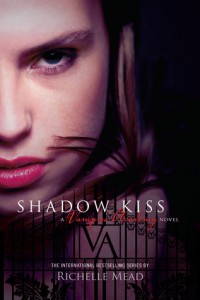 Pages: 443
Published: November 13th 2008 by Razorbill
# in Series: 3rd in Vampire Academy series
Source: Purchased at Chapters Indigo
The Book Depository // Amazon // Chapters Indigo
 Summary from Goodreads:

"It's springtime at St. Vladimir's Academy, and Rose Hathaway is this close to graduation. Since making her first Strigoi kills, Rose hasn't been feeling quite right. She's having dark thoughts, behaving erratically, and worst of all… might be seeing ghosts.

As Rose questions her sanity, new complications arise. Lissa has begun experimenting with her magic once more, their enemy Victor Dashkov might be set free, and Rose's forbidden relationship with Dimitri is starting to heat up again. But when a deadly threat no one saw coming changes their entire world, Rose must put her own life on the line – and choose between the two people she loves most."
My Thoughts & Review:
 Shadow Kiss takes place shortly after the death of Mason and Rose killing her first strigoi. Everything is starting to get back to "normal" at the Academy. Then Rose sees Mason's ghost. Rose keeps it to herself that she is seeing Mason but it soon starts to interfere: the Dhamphirs are in Guardian training and Rose freezes during an "attack" and everyone starts questioning her. Victor Dashkov is also going on trial and Adrian helps to get Rose, Lissa, & Christian there to give their witness statements. Then… Strigoi attacks the Academy and everyone is at risk.
Oh gosh, I loved this one. Not as much as Frostbite but pretty darn close. Rose keeps getting better and better as a character. She is so strong-willed plus her sarcasm and bitchy demeanor are hilarious. Dimitri is so freakin hot and … him and Rose get even closer <3 Lissa hardly annoyed me in this one, and Christian was awesome.  I wasn't really surprised when Rose was chosen to be his "test" guardian, but I'm glad it happened.  I never liked that they were supposed to be enemies so when they start getting along in this book it made my day! Adrian is his usual self in this book, and honestly I don't see the appeal in him the way everyone else does.  Maybe I'm biased because I'm so Team Dimitri but I just don't think he is all that special.
I was really happy that this book takes you outside of the Academy again.  I love the setting of St. Vladimir's but it's nice to change it up a bit.  I loved having a bit of peek into the Palace, and Mia was back 🙂 The only downside I had to this book was… I cried at the end, and by cry I mean bawled. If you have read this one, you will know exactly what part I meant but my heart just seized up.
The ending of Shadow Kiss was definitely a bigger cliffhanger than the rest of the series, and I actually did have to scurry out to pick up Blood Promise. Richelle Mead is absolutely doing this amazing series justice, book after book.  I can't wait to finish this series and see what direction she is going to take… especially after this ending!
My Rating:


 Happy Reading!