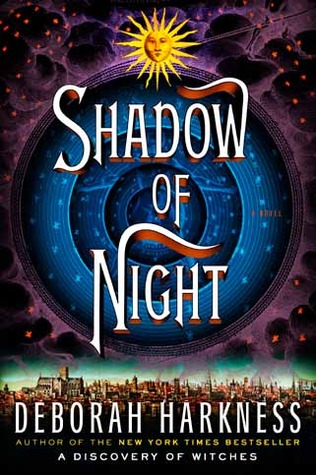 Shadow of Night by Deborah Harkness
Series: All Souls Trilogy #2
Published by Viking Adult on July 10th 2012
Pages: 584
Source: Purchased at Chapters Indigo
Add on Goodreads
Amazon•Kobo•TBD
My Rating:

Together we lifted our feet and stepped into the unknown"—the thrilling sequel to the New York Times bestseller A Discovery of Witches

Deborah Harkness exploded onto the literary scene with her debut novel, A Discovery of Witches, Book One of the magical All Souls Trilogy and an international publishing phenomenon. The novel introduced Diana Bishop, Oxford scholar and reluctant witch, and the handsome geneticist and vampire Matthew Clairmont; together they found themselves at the center of a supernatural battle over an enchanted manuscript known as Ashmole 782.

Now, picking up from A Discovery of Witches' cliffhanger ending, Shadow of Night plunges Diana and Matthew into Elizabethan London, a world of spies, subterfuge, and a coterie of Matthew's old friends, the mysterious School of Night that includes Christopher Marlowe and Walter Raleigh. Here, Diana must locate a witch to tutor her in magic, Matthew is forced to confront a past he thought he had put to rest, and the mystery of Ashmole 782 deepens.

Deborah Harkness has crafted a gripping journey through a world of alchemy, time travel, and magical discoveries, delivering one of the most hotly anticipated novels of the season.

Oh, wow. I'm going to be honest, for the first 40% of this book I thought I was actually going to end up hating one of my most anticipated books of the year. However… that is not so, I loved it! It does take a bit to get into because their is soooo much detail in the first section, but after that…amazing.
The first half of the book is slow, very, very slow. It is really detailed and their is a lot of interactions between Matthew's friends that are long and boring but it does tie into the story eventually. The first "part" of the book I didn't enjoy as much as the others but once Matthew and Diana were in Sept-Tours I began to remember why I loved "Discovery of Witches".
This book has the same detailed writing style as Discovery of Witches, which I actually loved. I loved how it was so over-detailed with describing everything. I mean, Diana is a witch and Matthew is a vampire so of course they are going to have different perceptions & reactions than humans.
I loved how Diana made so many relationships in the 1500's. I know this is not characteristic to most time travelling stories, as you have to be sure you don't change the future but I put those thoughts aside and I really liked how throughout the book they showed how it affected the future. I also loved Jack & Annie and I was sooo sad when they had to leave them 🙁
The ending of the novel is indeed a cliffhanger, and I don't know how I will be able to wait for the next book.  I will definitely be getting the third book and I am so intrigued to see how the journey will end. Also, this book is very much historical fiction however do not let that deter you as I often do not like historical fiction, and I loved this book.