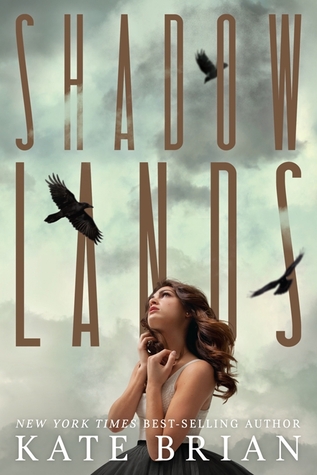 Pages: 336
Published: January 08th 2013 by Hyperion
# in Series: #1 in Shadowlands series
Source: Purchased at Indigo Spirit
Amazon | The Book Depository | Chapters/Indigo | Kobo
"Rory Miller had one chance to fight back and she took it. Rory survived… and the serial killer who attacked her escaped. Now that the infamous Steven Nell is on the loose, Rory must enter the witness protection with her father and sister, Darcy, leaving their friends and family without so much as a goodbye. 

Starting over in a new town with only each other is unimaginable for Rory and Darcy. They were inseparable as children, but now they can barely stand each other. As the sisters settle in to Juniper Landing, a picturesque vacation island, it seems like their new home may be just the fresh start they need. They fall in with a group of beautiful, carefree teens and spend their days surfing, partying on the beach, and hiking into endless sunsets. But just as they're starting to feel safe again, one of their new friends goes missing. Is it a coincidence? Or is the nightmare beginning all over again?"
My Thoughts & Review:
As soon as I read the synopsis of Shadowlands I knew I had to pick it up: contemporary thriller? Count me in! Needless to say I was not disappointed. I absolutely devoured this book, it sucked me right in from page one.
Shadowlands jumps into the action immediately, the first chapter is Rory walking home through the woods and her Math teacher, Steven Nell grabs her… and attempts to kill her. Rory somehow manages to get loose and the police immediately get involved. Turns out, her math teacher is an infamous serial killer. The thing is though… no one has ever escaped. Even with the police keeping them prisoner in their own home, Rory's family cannot escape from him and his death threats so the FBI send them into the Witness Protection Program. They are sent to a vacation island, that's beautiful and peaceful and it seems like they might have some rest from this nightmare. Not long after they arrive, strange things start to happen… and it seems like Steven Nell might have found them.
First off, holy smokes! This was non stop action from the second I opened the book. I was on the edge of my seat countless times. Kate Brian's writing is amazing. She has a wonderfully fluent and easy to read writing style that I immediately fell in love with. I was completely involved in this book… I could not put it down. I was actually scared at several points!
I loved Rory straight away. I loved her fear… you could actually feel it radiating from the pages. I also loved her determination. No matter how many people thought she was "crazy" she continued to trust her own thoughts. I also really started to like Olivia. She was a really honest character and I enjoyed the friendship she was beginning with Rory. The other characters I never really "liked" … I was too busy being suspicious. Oh my… Shadowlands has you so suspicious! Of everyone. I honestly didn't know who to trust by the end of the story and who was hiding secrets.
The ending is… completely unexpected. I honestly don't know how to describe it any other way, I was astonished come the end of the book. Totally not what I thought.
I absolutely recommend Shadowlands. It's un-putdownable, it's scary, it will mess with your head. Amazing read… and I am DYING for the next book now!
My Rating: