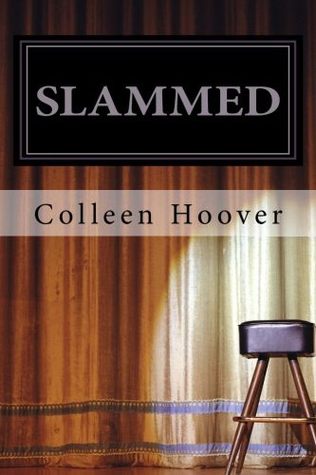 Pages: 312
Published: April 17th 2012 by CreateSpace
# in Series: #1 in Slammed series
Source: Purchased from Indigo Spirit
Amazon | The Book Depository | Chapters/Indigo | Kobo
Following the unexpected death of her father, 18-year-old Layken is forced to be the rock for both her mother and younger brother. Outwardly, she appears resilient and tenacious, but inwardly, she's losing hope. 
Enter Will Cooper: The attractive, 21-year-old new neighbor with an intriguing passion for slam poetry and a unique sense of humor. Within days of their introduction, Will and Layken form an intense emotional connection, leaving Layken with a renewed sense of hope.
Not long after an intense, heart-stopping first date, they are slammed to the core when a shocking revelation forces their new relationship to a sudden halt. Daily interactions become impossibly painful as they struggle to find a balance between the feelings that pull them together, and the secret that keeps them apart.
My Thoughts & Review:
Layken has just moved to Michigan from Texas(along with her mother and younger brother) after the sudden death of her father. Upon arrival she meets Will, her next door neighbor, who she is instantly attracted too. Will feels the same way about Layken… but then suddenly that potential is shattered: Will is Layken's teacher. Now they have to try to push aside these feelings, while dealing with a lot of other obstacles that get in the way.
Oh gosh, I don't even know what I'm going to say about Slammed. I find it really hard to review contemporaries because so often a lot of the major plot points are further along in the story, and can also spoil the story if talked about because they are not initially revealed. I'll try to do my best with leaving this as spoiler free as possible.
I really liked Lake as a character. I thought she had the perfect reactions for an 18-year-old high school student. Slightly dramatic, but she also had a very good head on her shoulders. She was strong, independent and a little bit stubborn. I also adored Will. He was so sweet, sincere, and I loved his emotional reactions. I loved how the majority of the time he thought was his heart and not his head although he certainly tried. I actually loved all of the characters, Eddie, Julia and the two brothers. The character building was great and I felt a strong connection to the characters almost instantly.
When I looked back at my notes one of the first things I wrote was, "Ugh. Insta love". That was my only problem with Slammed. It felt really sudden, they went from meeting to being in love… within a week. I didn't care anymore, come the end of the book, but initially I thought it was really rushed and a bit intense. The play out of the romance counter acted that though, and I ended up loving the intense relationship between Lake & Will.
The ending was absolutely heartbreaking for me. I don't want to ruin this as it's a major plot point, especially for the second book but I was in sobs at the end. Just be prepared.
Slammed was my second Colleen Hoover book and it secured me as a fan of hers. She is an amazing writer and has the ability to hook you into her stories. Her character building and writing style leaves me crying for more every time.
In summary, I really enjoyed Slammed. It was a nice refreshing romance, with serious topics but carried out well, and it leaves you craving the second book, Point of Retreat.
My Rating: