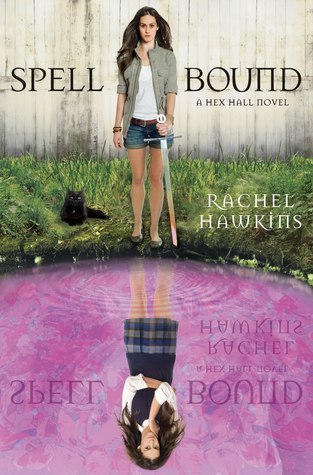 Pages: 352
Published: March 13th 2013 by Disney Hyperion 
Series: Hex Hall #3
Source: Purchased by Indigo Spirit
Amazon | TBD | Chapters/Indigo | Kobo | Goodreads

Hailed as "impossible to put down," the Hex Hall series has both critics and teens cheering. With a winning combination of romance, action, magic and humor, this third volume will leave readers enchanted.

Just as Sophie Mercer has come to accept her extraordinary magical powers as a demon, the Prodigium Council strips them away. Now Sophie is defenseless, alone, and at the mercy of her sworn enemies-the Brannicks, a family of warrior women who hunt down the Prodigium. Or at least that's what Sophie thinks, until she makes a surprising discovery. The Brannicks know an epic war is coming, and they believe Sophie is the only one powerful enough to stop the world from ending. But without her magic, Sophie isn't as confident.

Sophie's bound for one hell of a ride-can she get her powers back before it's too late?

*May contain spoilers for the previous books in the series*
Demonglass left off with quite the cliffhanger so I was anxious to pick up Spell Bound straight away and continue with this amazing story. Sophie has just travelled from England to The Brannicks, she has no idea where that is… Cal told her to go there as her mother would be there. She wakes up in a forest to a shapeshifter and a feisty young Brannick with a knife, and then blacks out again. When she awakens her mother is there, along with the Brannicks and Sophie learns some shocking information about her family history.
I love so many of these characters… Sophie, Cal, James and believe it or not I actually started to like Archer quite a bit as well! During the first part of the book I was terrified that something may have happened to one of my beloved favorites, especially Jenna but alas all is well and there are tons of surprising situations that they are thrust into during Spell Bound. I also loved being introduced to the Brannicks, we heard so much about them in previous books so I was nice to have a real perspective of what they are like; Especially since the spin-off series, School Spirits, features the Brannick family.
It's very hard to review Spell Bound because there is so much that happens as soon as you open the book, and I do not want to ruin any of these surprises. The Hex Hall series has captivated me since minute one and needless to say that held true for Spell Bound as well. The third book in the series is action packed, filled with surprises and introduces us to some great new characters. At several different parts I was practically clinging to my chair, nervous about what would happen.
The ending was perfect. I could not ask for anything better… nothing was left open(in my opinion) and I was completely satisfied. That is one of my biggest fears with a series that I love, that there may be unanswered questions or loose ends. I will certainly miss Sophie and her crew of Prodigium but I'm hoping to see glimpses of them in School Spirits!
I highly recommend this series! It's a wonderful paranormal series with great characters, lots of action and it's so incredibly hard to put down!


Happy Reading!
xo Lauren