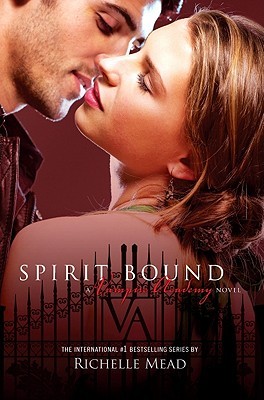 Pages: 489
Published: May 18th 2010 by Razorbill
# in Series: #5 in Vampire Academy
Source: Purchased at Chapters Indigo
The Book Depository | Amazon | Chapters Indigo
Summary from Goodreads:

"Dimitri gave Rose the ultimate choice. But she chose wrong…

After a long and heartbreaking journey to Dimitri's birthplace in Siberia, Rose Hathaway has finally returned to St. Vladimir's-and to her best friend, Lissa. It is nearly graduation, and the girls can't wait for their real lives beyond the Academy's iron gates to begin. But Rose's heart still aches for Dimitri, and she knows he's out there, somewhere.

She failed to kill him when she had the chance. And now her worst fears are about to come true. Dimitri has tasted her blood, and now he is hunting her. And this time he won't rest until Rose joins him… forever."
My Thoughts & Review:
Ummm woah? I honestly do not know what I else I can add to my Vampire Academy reviews but since I have received until this point I'm going to keep reviewing! It seems like my feelings are the same for the last books in the series.
Spirit Bound takes place at the end of the school year. Rose, Lissa and all their friends are graduating high school and are setting off to Court to receive their guardian assignments and spend the summer "relaxing". Of course, Dimitri is still after Rose and planning on capturing her, promising to find her no matter where she goes. Rose & friends hatch this master plan to discover how to heal Strigoi with spirit… but the plan backfires. And this book ends on the biggest cliffhanger so far!
I didn't want to reveal too much in my "summary" of the book. So much happens in this book… it's so hard to review these books spoiler free, the further I'm getting into the series. So be warned… there will be spoilers ahead: I just can't explain my feelings without revealing some parts :S
As I've said before I love Rose more and more as this series goes on.  I absolutely adored her in this book. I think my favorite part about Rose is she is not without faults. She has jealousy, she is working past her feelings of Dimitri while being with Adrian… and she still tries to remain her bad ass self. The one thing that I didn't really enjoy about this book is Rose & Adrian's relationship.  I hate how Adrian is getting strung along. I absolutely 100% percent want Dimitri and Rose to be together but I just feel so bad for Adrian because I really like him too. The entire book she more or less ignored the feelings of Dimitri, but you could so tell where the storyline was going with her relationships.
I also love that Eddie was featured so much in this book! I love Eddie and the part in Shadow Kiss that hurt me the most was when I found out that Eddie was captured. I was so scared that he might die. But alas, he is and he is in Spirit Bound so much 🙂 He plays a major part in this book. We also meet Sonya's(the spirit teacher who turned Strigoi) ex boyfriend. I thought that was an interesting twist and I'm sure they are bound to go somewhere else with this.
The ending was such a cliffhanger! I couldn't even believe that it left off like this… as I write this I am actually half way through Last Sacrifice because I simply could not wait at all.
All in all I absolutely adored Spirit Bound… I see why everyone loves this series so much. It's amazing.
My Rating:

Happy Reading!