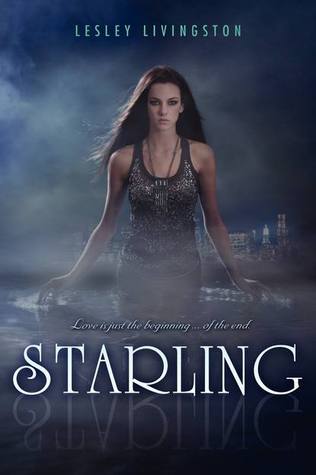 Starling by Lesley Livingston
Series: Starling #1
Published by Harper Teen on August 28th 2012
Pages: 352
Source: Purchased at Chapters Indigo
Add on Goodreads
Amazon•Kobo•TBD
My Rating:

"Love is just the beginning... of the end."

Mason Starling is a champion fencer for Gosforth Academy, but she's never had to fight for her life. Until now. When a ferocious storm rips through Manhattan and unleashes terrifying creatures onto Gosforth's campus, Mason barely escapes alive. Without help from the mysterious stranger who appeared in the midst of the storm, she might not have made it at all. But now, in the aftermath, Mason's life begins to spin dramatically, mystically out of control, and the only one who seems able to help her is the stranger who can remember nothing but his name: Fennrys Wolf.

As Mason and Fenn uncover more about Fenn's past and the strange events that surround them, they realize that Mason's family — and its dark allegiance to the ancient Norse gods — is at the center of everything. A predetermined fate seems to be closing in on Mason, but is it possible to change one's destiny?

Readers who fell in love with Lesley Livingston's Wondrous Strange trilogy and those who love Cassandra Clare's Mortal Instruments series will be captivated by the sweeping romance and pulse-pounding action of Starling.


You have to wait no time for action in Starling! It starts off with Mason, her brother Rory, Toby(the fencing teacher), Cal and Heather finishing up fencing practice when a storm rips through Manhattan and they are stuck inside of the fencing gym. The storm is a little bit more than they expect: they can't get out & suddenly there are Draugrs attacking them.  Then out of nowhere there is a naked boy named Fennrys who fends off the monsters.
I knew this was going to be action packed but I had no idea it would dive right in! Starling focuses around Norse mythology which I actually hadn't read prior to this book so I was flicking back and forth between Google every so often.
After the storm Mason and Fennrys start to become very close and there are more strange encounters along the way. This book was a match made in heaven for me, I prefer more action and story with just a little bit of romance. It fit the bill perfectly.
I love Mason as a character. She's feisty but smart and she wasn't completely perfect. Mason has severe claustrophobia which hinders her along the way.
There are plenty of twists and turns in this book and you won't be able to put it down! The ending is one of the biggest cliffhangers I have ever seen in a book. I was astonished(in a good way) and now I absolutely cannot wait for the second book!