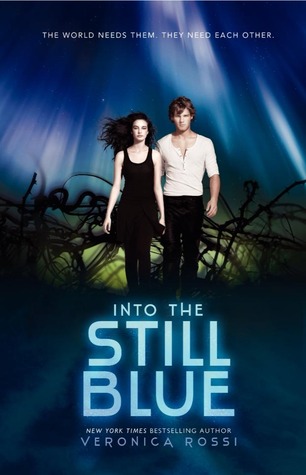 Pages: 400
Expected Publication: January 28th 2013 by HarperCollins
Series: Under the Never Sky #3
Source: HarperCollins via Edelweiss
Amazon | TBD | Kobo | Goodreads

Their love and their leadership have been tested. Now it's time for Perry and Aria to unite the Dwellers and the Outsiders in one last desperate attempt to bring balance to their world.

The race to the Still Blue has reached a stalemate. Aria and Perry are determined to find this last safe-haven from the Aether storms before Sable and Hess do-and they are just as determined to stay together.

Meanwhile, time is running out to rescue Cinder, who was abducted by Hess and Sable for his unique abilities. And when Roar returns to camp, he is so furious with Perry that he won't even look at him, and Perry begins to feel like they have already lost.

Out of options, Perry and Aria assemble a team to mount an impossible rescue mission-because Cinder isn't just the key to unlocking the Still Blue and their only hope for survival, he's also their friend. And in a dying world, the bonds between people are what matter most.

In this final book in her stunning Under the Never Sky trilogy, Veronica Rossi raises the stakes to their absolute limit and brings her epic love story to an unforgettable close.


**Will contain spoilers to the previous books in the series**
Into the Still Blue was the perfect example for me of wanting to read a book SO badly, but not at the same time. I got my review copy way back in September, and kept putting it off… and putting it off… I seriously did not want this series to end. I finally sucked it up and read it over New Years.
It's not a secret of mine that while I loved Aria and Perry, Roar was my boy. I just freaking adored him, and if he was to hopelessly fall in love with Aria and ride off into the still blue with her, I wouldn't have been sad. Don't worry, it didn't happen though! My love for Roar held strong in Into the Still Blue. He was SO moody though, and heartbroken over Liv and my heart ached for him the entire book. Aria was still the same headstrong, defiant, strong-willed girl that we seen from book one and I'm so glad that her personality didn't change, except for the better. Too often we see the main character, weaken during the course of a series, but not here 🙂 I thought Perry grew a lot in the final installment, and I really enjoyed seeing that. I always liked Perry, and I enjoyed that he was always for the Tides but you really see that in action. As far as the other secondary characters go, I still retained all my love for them and my feelings didn't change except for BROOKE! I just despised her… and then I slowly grew to be ok with her in Into the Still Blue. I loved that, knowing I walked away from the series, enjoying SO many characters that had such an important place throughout the story.
The plot itself was much, MUCH, slower than i expected. Like incredible. I expected so much action, and while there was quite a bit, I felt like it was just missing something. There was a bit of a twist that surprised me … other than that nothing really shocked me.
Now… the ending. I felt like it was a bit… anticlimactic? I don't know, I was expecting this HUGE THING and then… I was a bit let down? I enjoyed the ending, don't get me wrong, and I certainly shed some tears (of course) at one point, but I felt it was lacking. And I am incredibly pissed off about a certain incident … the only thing that WASNT perfect (which you will understand when you read it).
For the finale of a series, it was good. Everything was wrapped up, it wasn't open-ended and left you wondering why, but I guess I just expected to be blown away and I wasn't. I loved seeing my favorite characters again, and I love how there ending is however and that is enough to satisfy me.
All I have to say in summary is read this if you have started this series. You need to know how it ends, and you need to have the feels it gives you.