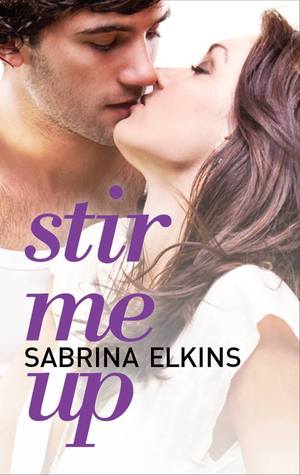 Pages: 268
Expected Publication: October 01st 2013 by HarlequinTeen 
Series: N/A – Stand Alone
Source: From Kismet Book Tours for review

Cami Broussard has her future all figured out. She'll finish her senior year of high school, then go to work full-time as an apprentice chef in her father's French restaurant, alongside her boyfriend, Luke. But then twenty-year-old ex-Marine Julian Wyatt comes to live with Cami's family while recovering from serious injuries. And suddenly Cami finds herself questioning everything she thought she wanted.

Julian's all attitude, challenges and intense green-brown eyes. But beneath that abrasive exterior is a man who just might be as lost as Cami's starting to feel. And Cami can't stop thinking about him. Talking to him. Wanting to kiss him. He's got her seriously stirred up. Her senior year has just gotten a lot more complicated….


I was immediately intrigued by the synopsis of Stir Me Up, I knew it would carry quite a few heavy, emotional issues because of the fact that the main love interest has just returned, seriously injured, from Afghanistan but I had no idea the type of journey this story would take me on!
The main character, Cami, was AWESOME! I liked her from page one. First of all, she was incredibly realistic, and someone I think that a lot of people will be able to relate with. She struggles with her feelings being less than what she though with her first serious boyfriend, trying to balance work, high school, and relationships as well as trying to convince her father that what she what she wants to do after she graduates doesn't match up to what he wants for her. Aside from her relatability she was just incredibly likeable as well. I loved her personality and how she would stand up to anyone about what she believed in. Julian, the injured Marine that comes to live with her family, is actually her new stepmother's nephew. Julian is now one of my favorite book boys. He was sooooooo swoonworthy. Gorgeous, ex-Marine, and despite what he tried, he wore his emotions on his sleeve. He came packed with a ton of emotional issues, seeing as how he was just seriously injured overseas as well as seeing some of his best friends killed, but Cami's take-no-shit personality really helped him come out of his shell. The rest of the characters, Chris (Cami's father), Estelle, Taryn, Brandon… they were all fantastic. I really did not dislike any of the characters in Stir Me up, which is saying a lot because I can always find one to pick apart.
The love story is amazing. It's obvious what's going to happen from the beginning, but it doesn't take away from the story. I actually think it might have added another layer to it because I knew it was going to happen, you just don't know when! It's also pretty steamy so add that to the romance and it made a fabulous love story!
One of my favorite, favorite things about Stir Me up is the strong family presence. I have gotten really tired of the absence families in young adult so I was so happy to see that it was such a huge part of the story here. Cami's father, while a workaholic, is extremely devoted to his daughter and wants the very best for her. Estelle, Cami's new stepmother, tends to be a bit smothering but she loves wholeheartedly and plays a huge part. Brandon & his wife also make several appearances in the novel and it was great to see a blended family melt so well together. It was really heartwarming to read about a loving family for a change!
Sabrina Elkins had me engrossed in her story from minute one. It's been a very long time since I was not able to STOP reading a book, and this absolutely did it for me. Every second I could find I was reading it on my phone, from breaks at work to standing in line for coffee! It's an incredibly emotional read and the ending was amazing as well. I hope *fingers crossed* there could be a continuation to the story because I would love to see where Cami & Julian end up from here!
If you love mature young adult/new adult romance, with steamyness and a great story, definitely give Stir Me Up a chance!!!