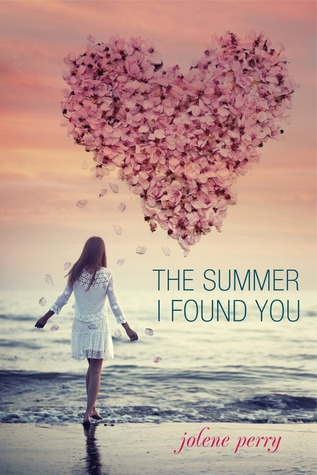 Pages: 256
Publication Date: March 4th 2014 by Albert Whitman Teen
Series: N/A – Stand Alone
Source: Albert Whitman via Netgalley
Amazon • TBD • Kobo • Goodreads

All they have in common is that they're less than perfect. And all they're looking for is the perfect distraction.

Kate's dream boyfriend has just broken up with her and she's still reeling from her diagnosis of type 1 diabetes. Aidan planned on being a lifer in the army and went to Afghanistan straight out of high school. Now he's a disabled young veteran struggling to embrace his new life. When Kate and Aidan find each other neither one wants to get attached. But could they be right for each other after all?


I picked up The Summer I Found You on a whim. It's definitely not the type of book I would have previously been drawn to but coming off a summer of reading mostly contemporary, it caught my eye. It fell by the wayside for months until last weekend when I was feeling like a romantic contemporary to pick up my mood.
Kate, the main character, was not someone who I was immediately drawn to. I didn't dislike her, there was just nothing overall appealing about her to me. I can't say that she was my favorite person of the book, but I found an appreciation for her in the fact that I adored her and Aidan's relationship. Now… Aidan however was just SWOON. I really liked how he was presented as this broken character, but in fact, he wasn't at all. Sure he had a few obstacles to overcome but he was AWESOME. He was honest with his feelings, and I really liked how he was the open one in the relationship.
I honestly didn't have many expectations going into The Summer I Found You. I didn't think that I would be wrapped up in it nearly as much as I was. I actually read it in one sitting because between the wonderful writing, the lovely romance and the fact there was an actual plot, not just romance, I was swept off my feet.
Hands down, my favorite part about this book was the plot. Aidan had a TON to overcome. He is recently disabled after being in the army and has to come to terms with that plus he needs to figure out where his life is going and what he will do in the future now that his current path has been altered. Kate was recently diagnosed with diabetes and is in complete denial with it. She refuses to accept the fact that this is a lifelong illness and has put herself at risk with her health. There was a lot going more on here besides Kate and Aidan's relationship. It was wonderful and I enjoyed seeing them both grow as characters.
If you are looking for a lovely contemporary romance, The Summer I Found You is a great choice. It's one of those books that you cannot put down and will be pulled into the characters stories.