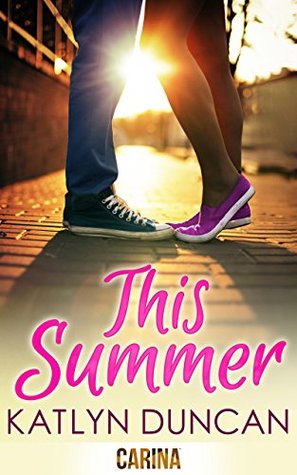 This Summer by Katlyn Duncan
Series: This Summer #1
Published by Carina on July 09th 2014
Pages: 288
Source: From Author
Add on Goodreads
Amazon•Kobo
My Rating:

Before college, before responsibilities, Hadley Beauman and best friend Lily are determined to have a summer to remember. There will be all the usual dramas - ex-boyfriends who don't seem to know what 'ex' means, pesky younger brothers with unrequited crushes, but what Hadley didn't anticipate was the out-of-the-blue return of the seriously hot boy-next-door, Will Carson. The boy who broke her heart when he skipped town two years ago.

Will may have shot up a foot and filled out (oh yes), but inside he carries the weight of guilt - for leaving, for coming back... Now he's just passing through to tie up loose ends but it's clear the old chemistry still crackles between him and Hadley. Trouble is, it's built on two years of lies...

This summer might just be the best time of their lives, but is Hadley ready for everything to change - again?

I've noticed over the past few months I've really been looking for "summer reads". Light hearted, romantic contemporaries that give me the warm fuzzies inside so This Summer immediately caught my interest…
I adored the main character Hadley. There was just something about her that I immediately liked and I also really loved her relationship with her family. I think the reason I was drawn to her was that she really knew what she wanted. In a lot of contemporaries you see the girl trying to cling to a high school relationship even though one or both of the people are moving away for college but in This Summer, Hadley broke it off with her high school boyfriend because they would be moving away in September to start college. I liked that she wasn't clingy about it, and was actually the one who was trying to fend off her ex's advances. Lily, I liked immediately as well although I explain below how I didn't like her by the end of the book. She was really in Hadley's court with the whole Will leaving situation and was constantly looking out for her, which I suppose made the end situation even worse for me, because I really liked her at first. And Will… well of course I liked Will. Did anyone not like this sexy cowboy? He lived on a horse farm, had a sexy accent, nice body… what was to not like? I loved him. And I loved him for Hadley.
The romance was lovely. I liked that it wasn't an instant love type of situation because there was a back story between Hadley and Will. It was nice to see them try to work out their feelings from two years prior. Also, the back story about Will was heart wrenching but really added to the punch of the story. It was a slightly unbelievable in the fact that he just took off overnight as a teenager but nevertheless, I still liked that story angle.
The main thing that really turned me off about the whole story was the 'incident' with Lily towards the end. I'm not going to go into a great amount of detail, to prevent spoilers, but I really, really did not agree with that entire scenario at all. I wish Hadley had said a big, "Screw you!" to her and ran off because in all actuality, no matter what Lily thought that Hadley did it didn't even come close how terrible that thing that Lily did to her. Ugh… that was my major dislike about the entire book but luckily This Summer wasn't a story about Hadley and Lily so I was more interested in how the rest of the story would play out 😛
The ending had me in TEARS, which I really didn't expect at all. That final scene at the camp, oh my gosh… I could just imagine it so well, and it was so perfect and amazing I couldn't help but just cry and cry. Definitely one of the those warm, gushy moments.
I definitely recommend This Summer if you are looking for a great romance but that's not completely light and fuzzy. The writing is fantastic and the romance PERFECT <3