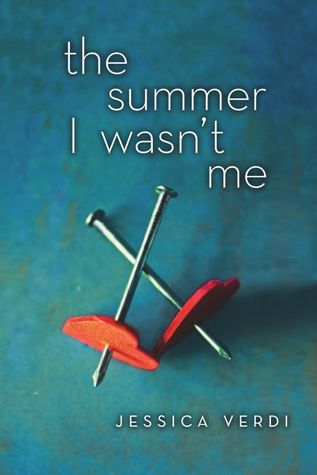 Pages: 352
Publication Date: April 01st 2014 by Sourcebooks Fire
Series: N/A – Stand Alone
Source: Sourcebooks Fire via Netgalley

Lexi has a secret…

Ever since her mom found out she was in love with a girl, seventeen-year-old Lexi's afraid that what's left of her family is going to fall apart for good. 

You are on the road to truth. Help is on the way.

The road signs leading to New Horizons summer camp promise a new life for Lexi—she swears she can change. She can learn to like boys. But denying her feelings is harder than she thinks. And when she falls heads over heels for one of her fellow campers, Lexi will have to risk her mother's approval for the one person who might love her no matter what.


*There may be some minor spoilers ahead, go forward at your discretion :P*
When I first seen The Summer I Wasn't Me on Goodreads I instantly added it to my TBR. My Life After Now was a wonderful debut and tackled an extremely emotional issue, and one that I hadn't seen covered in YA before so needless to say I was very excited to read Jessica Verdi's second book as well.
Lexi, the main character, was someone I immediately liked. She was kind, loyal, and extremely family oriented. I mean, she went to a camp to "stop her" from being homosexual just to try to save her and her mothers relationship! I also really liked all of the teens in Lexi's inner circle at the camp, despite some roadblocks she had with each one, they were all dedicated to one another and true friends in the end. Her mother I had issues with. Towards the end, I felt slightly redeemed by her, but the beginning of the book I was very, very angry with her. I just could not absolutely imagine the way she felt. Perhaps that's due to my life experiences and the way I was raised but the thought process of sending your daughter away to a anti-gay summer camp is so far out of my realm of possibility I had a hard time even imagining it!
The story is wonderful and definitely unique to anything I've read, that's for sure except I had one problem with it. I thought a lot of the issues were somewhat glazed over. There were a lot of things that were discussed and touched on, but I would have liked the emotional aspect of the book to run slightly deeper me. Obviously that's my personal preference when it comes to this, and what was done with the story was very good.
The major issue I had with this story was the abuse that happened. I can see how it played a role in the story, and the fact that it was used as a plot point is not what bothered me. It's how it was handled when all was said and done. I think that it was something that needed to be addressed in a better way than it was. It was absolutely disgusting what was done at that summer camp, and I was very disappointed that it wasn't dealt with differently.
Besides my issues with the book, I did enjoy The Summer I Wasn't Me. Jessica Verdi is a wonderful writing, and she is certainly not scared to touch on tough topics. I will absolutely be reading whatever she comes out with in the future!