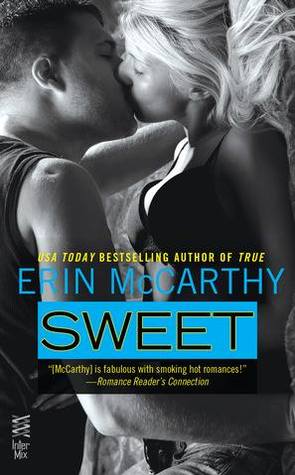 Pages: 257
Publication Date: October 15th 2013 by Intermix
Series: True Believers #2
Source: Borrowed from the library

Jessica Sweet thought going away to college would finally make her free of her parents' constant judgments and insistence she play chastity club role model for their church events, but if anything, the freedom has made her realize she can't go home and be a hypocrite anymore. Tired of dodging their questions, she stays at school over the summer and lands in an unexpected crash pad: Riley Mann's house. 

Sarcastic, cocky, and full of opinions, Riley is also sexy personified with tattoos and biceps earned from working as a roofer all day. Not the right guy for her even if Jessica was looking for a relationship, which she is definitely not. But Jessica knows that Riley hides the burden of having to raise his younger brothers behind that grin and as she helps him get his house in order for a custody hearing, they begin to fall hard for each other, and she is forced to question what she's hiding herself. 

Jessica has never had a problem getting naked with a guy, but when it comes to showing Riley how she truly feels inside, her fear of rejection may just ruin the best thing—the best guy—to ever happen to her…


I loved True when I read it last year. I loved the story, the characters and the romance so when I found out that it would have a sequel (and several others!) I was thrilled!
I wasn't sure how I would feel about Jessica though. I had a love/hate relationship with her in True. I thought that she was not the greatest friend to Rory and a bit snotty at times. Once I started reading Sweet though, I completely forgot about my dislike with her in the last book. I thought Sweet helped to reveal Jessica's many layers and by the end of the book I adored her! I knew I would like Riley though… come on, he is Tyler's brother (who is the ultimate sexy boy!), he was gruff and stern and had that amazing family love that is clearly the main theme in this series.
There were a lot of elements in Sweet that I very much enjoyed; I loved that we got to see the younger brothers again and they also played a large part in this story. I loved the seemingly 'slow' burning romance that Jessica and Riley had. It wasn't entirely slow but compared to a lot of novels, it lacked the insta love portion which was fantastic. The couple started out in a dislike for each other, and were really only in each other's space due to circumstance … then it turned into a lust (which is FAR more realistic than love) and then before they could even realize it themselves, it was love. I adored the way the romance played out.
I noticed that Sweet didn't focus so much on series points as True did. I enjoyed that the custody case wasn't a huge part in the story, because it would have made it much heavier and probably took away the fun part of the relationship but I did wish that the book may have focused a bit more on Jessica's family struggles. Her mother is a cow, her father is judgemental and her brother is definitely not loving towards her. I wish after the confrontation we would have seen more with that story line but unfortunately we didn't.
Besides my (one) drawback above, I really did enjoy Sweet. It was a quick read and I flew through it and definitely held up as the second book in this series. I definitely recommend this series if you love contemporary romance. It's sexy, filled with great characters and have really good storylines to top it off. I can't wait to read Believe!