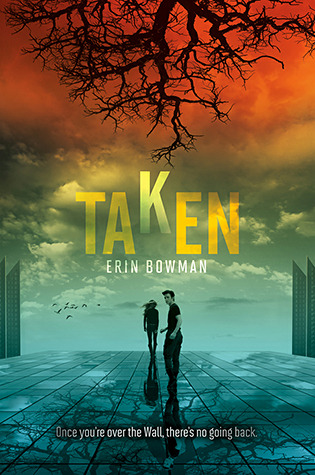 Pages: 352
Published: April 16th 2013 by HarperTeen 
Series: Taken #1
Source: HarperTeen via Edelweiss
Amazon | TBD | Chapters/Indigo | Kobo | Goodreads

There are no men in Claysoot. There are boys—but every one of them vanishes at midnight on his eighteenth birthday. The ground shakes, the wind howls, a blinding light descends…and he's gone.

They call it the Heist.

Gray Weathersby's eighteenth birthday is mere months away, and he's prepared to meet his fate–until he finds a strange note from his mother and starts to question everything he's been raised to accept: the Council leaders and their obvious secrets. The Heist itself. And what lies beyond the Wall that surrounds Claysoot–a structure that no one can cross and survive.

Climbing the Wall is suicide, but what comes after the Heist could be worse. Should he sit back and wait to be taken–or risk everything on the hope of the other side?


Taken is about a boy, Gray who is from Claysoot. A town surrounded by an ominous wall that no one has ever made it over and back alive. When a boy turns 18, he is heisted… disappears out of the town, never to be seen again. Gray's brother, Blaine is heisted and after he is gone Gray discovers a hidden family secret that send him searching for answers with his girlfriend, Emma. Over the wall they go… and Gray realizes that life over the wall is not what he thinks.
Gray was a good main character. He was determined and had a pretty good head on his shoulders for a teenager although this can probably be accounted to fact that males grow up very quickly in Claysoot due to the fact they are heisted at such an early age. He had a little bit of rebellion in him which was refreshing as he wasn't this picture perfect main character who was going to save the world around him. As much as I liked Gray I had absolutely no emotional connection with him. Or any of the other characters. Not Gray, Blaine, Emma, Owen, Bree… none of them. It was very disappointing to me that I could not connect with any of the characters.
The world building was interesting and one thing that somewhat saved the book a bit for me. I liked the fact that Claysoot is basically a test village, among others and I liked hearing about Taem and how it works.
The pacing was SOO slow for me… I felt like I was reading forever. Also at certain parts I felt like their were gaps in the story, especially with the rebels. If there was a bit more action during that time I think I would have enjoyed it a bit more.
The other thing that I really enjoyed, apart from the world building was the male point of view. I really enjoy male POV's, and I absolutely LOVED the fact there was a love triangle that involved a guy and two girls. It's such a rare thing to see a love triangle like that and I found it much more interesting and different then the normal run of the mill female vs. two males love triangle.
Unfortunately, Taken didn't thrill me. I'm still upset that I didn't enjoy it as much as I wanted to and I'm not sure if I will continue the series. There have been a ton of great reviews on this however so if you are thinking about picking it up I would read some other reviews as this may be something you will end up loving. I chalk up me not loving it to the characters, because I couldn't connect with not even ONE of them it was really hard to pull myself into the story.