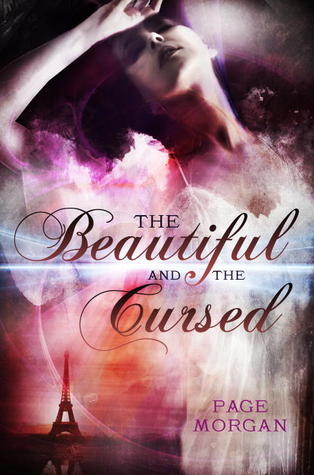 Pages: 352
Published: May 14th 2013 by Doubleday Canada 
Series: The Dispossessed #1
Source: Borrowed from library
Amazon | TBD | Kobo | Goodreads

After a bizarre accident, Ingrid Waverly is forced to leave London with her mother and younger sister, Gabby, trading a world full of fancy dresses and society events for the unfamiliar city of Paris.

In Paris there are no grand balls or glittering parties, and, disturbingly, the house Ingrid's twin brother, Grayson, found for them isn't a house at all. It's an abandoned abbey, its roof lined with stone gargoyles that could almost be mistaken for living, breathing creatures.

And Grayson has gone missing.

No one seems to know of his whereabouts but Luc, a devastatingly handsome servant at their new home.

Ingrid is sure her twin isn't dead—she can feel it deep in her soul—but she knows he's in grave danger. It will be up to her and Gabby to navigate the twisted path to Grayson, a path that will lead Ingrid on a discovery of dark secrets and otherworldly truths. And she'll learn that once they are uncovered, they can never again be buried.


I was so torn on whether I should read The Beautiful and the Cursed when it came out. It sounded like such a great story plus it has an amazing cover however I wasn't sure it would really suit me as it's historical fiction. I've attempted enough historical fiction to know that it more often than not does not work out for me but needless to say I seen it at the library and figured I would give it a go.
Ingrid, the main character, has just moved with her younger sister, Gabby and their mother to Paris. Her brother, Grayson had went to Paris ahead of them to get a house ready and get everything settled before their arrival. When Ingrid & family arrive in Paris they immediately realize something is very wrong: Grayson is missing, the police are not interested in his case and it seems less and less likely that he will be found. There is a killer on the loose in Paris, who is kidnapping young girls… does Grayson tie into this? The only person who truly believes that Grayson is alive is Ingrid; because he is her twin she has an intuition that he is definitely alive. Oh yes… and there are gargoyles!
Ingrid was fabulous. So was Gabby. I loved the two sisters separately, I loved them together… they were just amazing characters. I enjoyed that they were quiet rebellious for that time period and often felt like they weren't being appropriate, I found it quite easy to see what they were about because of this as rebellion is something ALL teenagers go through, no matter what time period. Ironically(and strange for me) I did not get attached to the male characters. I thoroughly enjoyed all of them but to me the "love triangle" could go either way I would be satisfied. The character building is great especially since a large focus of the novel is how Ingrid is trying to discover how she is "special" and unlike others.
I thought the storyline was incredibly original. I have never read a novel about Gargoyles and with Angels, demons, and hellhounds added into the mix it was really interesting. The only part I disliked was that it was a bit slow going at times. Now take this with a grain of salt as I often find historical fiction to be quite slow sometimes. Other than that the suspense was great and I always felt like a new secret was going to be discovered. There were quite a few surprises and about 70% through the pace really picks up and you just need to finish in one sitting.
The Beautiful and the Cursed was a wonderful debut novel. Original, interesting and some wonderful new paranormal creatures! I definitely recommend this if you love paranormal. I will absolutely be continuing this series, I can't wait to see what will happen next with Ingrid… especially after the ending.



Happy Reading!
xo Lauren