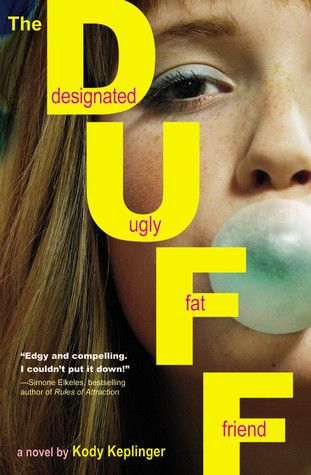 Pages: 280
Published: June 7th 2011 by Poppy
# in Series: N/A – Standalone
Source: Purchased at Indigo Spirit
Amazon | The Book Depository | Chapters/Indigo | Kobo
"Seventeen-year-old Bianca Piper is cynical and loyal, and she doesn't think she's the prettiest of her friends by a long shot. She's also way too smart to fall for the charms of man-slut and slimy school hottie Wesley Rush. In fact, Bianca hates him. And when he nicknames her "the Duff," she throws her Coke in his face.

But things aren't so great at home right now, and Bianca is desperate for a distraction. She ends up kissing Wesley. Worse, she likes it. Eager for escape, Bianca throws herself into a closeted enemies-with-benefits relationship with him.

Until it all goes horribly awry. It turns out Wesley isn't such a bad listener, and his life is pretty screwed up, too. Suddenly Bianca realizes with absolute horror that she's falling for the guy she thought she hated more than anyone. And eventually, through this realization, Bianca begins to see how harmful her unhealthy way of dealing with her problems has been, and finds a way to confront them head on."
My Thoughts & Review:
 The DUFF's main character, Bianca has always been adamant that she wants nothing to do with the womanizer, Wesley. One night while they are at a club, Wesley approaches Bianca and explains to her that she is The Duff, The Designated Ugly Fat Friend when compared to her two best friends Casey & Jessica. This makes Bianca hate Wesley even more, and she cannot get that statement out of her mind. Bianca's home life seems to be falling apart, her parents want a divorce, her Dad's sobriety is hanging in the air and her ex boyfriend has just came back into town. To find a distraction, she turns to Wesley and he's a little more than she bargained for.
I absolutely loved Bianca. The synopsis describes her as cynical and that is exactly the word for her. It's not an annoying type of cynical though, she is absolutely hilarious. So dry, sarcastic and has a huge potty mouth. I loved her insecurities as well. She was just all around a great character and really suited the tone of the novel. I loved Jessica, one of Bianca's best friends, as well. She was so innocent and I just pictured her as this tiny, doe eyed, angelic girl. Wesley was also a great character. He was the perfect example of a gorgeous womanizer, but underneath he was pretty soft-hearted.
I was actually surprised by the level of sexuality and language in The DUFF. I didn't mind it one bit though but it kind of shocked me because normally Young Adult teenage characters are built to the be the epitome of pure and virginal perfection. I thought it was a more accurate representation of high school relationships than most Young Adult novels, especially in today's society.
The DUFF also touches on a few tough issues, but it's not the main focus of the novel. It's actually the perfect balance of seriousness and comedy. One minute I was laughing and the other I was near tears. Bianca and her father have a touching relationship and at times I just wanted to cry for them.
All in all I really enjoyed this novel. It was a refreshing mix up of the usual Young Adult contemporary romance and I will definitely be picking up Kody Keplinger's other novels. I adore her writing style. So much so that I say down and read The DUFF in one straight sitting. If you enjoy contemporary romance, with humor but aren't put off my swearing and sexuality than you absolutely need to pick this one up.
Great read!
My Rating:

Happy Reading!
xo Lauren