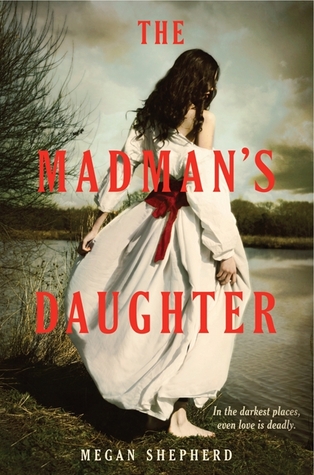 Pages: 432
Published: January 29th 2013 by Balzer & Bray
# in Series: #1 in The Madman's Daughter Trilogy
Source: From HarperCollins via Edelweiss
Amazon | The Book Depository | Chapters Indigo
Summary from Goodreads:

"In the darkest places, even love is deadly.

Sixteen-year-old Juliet Moreau has built a life for herself in London—working as a maid, attending church on Sundays, and trying not to think about the scandal that ruined her life. After all, no one ever proved the rumors about her father's gruesome experiments. But when she learns he is alive and continuing his work on a remote tropical island, she is determined to find out if the accusations are true.

Accompanied by her father's handsome young assistant, Montgomery, and an enigmatic castaway, Edward—both of whom she is deeply drawn to—Juliet travels to the island, only to discover the depths of her father's madness: He has experimented on animals so that they resemble, speak, and behave as humans. And worse, one of the creatures has turned violent and is killing the island's inhabitants. Torn between horror and scientific curiosity, Juliet knows she must end her father's dangerous experiments and escape her jungle prison before it's too late. Yet as the island falls into chaos, she discovers the extent of her father's genius—and madness—in her own blood.

Inspired by H. G. Wells's classic The Island of Dr. Moreau, The Madman's Daughter is a dark and breathless Gothic thriller about the secrets we'll do anything to know and the truths we'll go to any lengths to protect."
My Thoughts & Review:
The Madman's Daughter starts off in London, with the young maid Juliet Moreau. Juliet is alone, after her mother died and her father disappeared after being discovered doing strange scientific experiments. Juliet discovers Montgomery, a servant who used to work for her family, and soon realizes her father is alive… secluded on a far away island. Juliet travels across the ocean with Montgomery to finally see her father again and what she is faced with on the island is nothing short of horrific.
Juliet was a pretty intriguing character, she was certainly outspoken for that time period and I quite enjoyed that. She was also very inquisitive and I liked how she always kept her sense of values at the forefront of her mind. Montgomery was also a nice character, I really loved his compassion and sensitivity towards animals and humans. It's really hard for me to write about any of the characters, because in all honesty I wasn't attached to any of them. I liked Alice & Balthasar the most of all the characters, but there still wasn't a strong connection towards them.
The story itself is creepy and extremely horrific. The experiments that are taking place on this island are absolutely insane. I felt woozy at several points during this book, and that is probably due to my love for animals. To imagine an animal having it's organs removed while it is alive and under no sedation makes me physically ill. I think that is one of the reasons I couldn't get as hooked on this book as I would have liked, the entire "scientific" part of this book was disgusting for me.
There were several surprises in The Madman's Daughter… things I wasn't expecting and the ending is certainly quite the cliffhanger! All in all it was interesting, and I definitely had to continue reading to see how everything is going to play out but I'm not sure if I will be picking up the next book. Perhaps I'm a bit too sensitive for a series like this 😉
I'm sure a lot of people will ADORE this, it's perfectly creepy and definitely unlike anything I've ever read.
My Rating:

 Happy Reading!