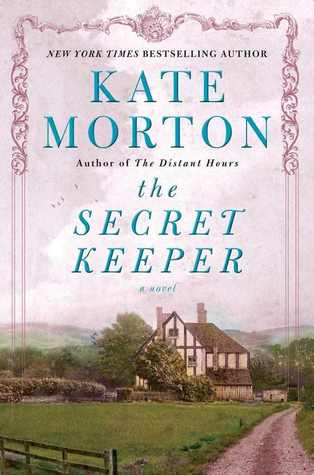 The Secret Keeper
by
Kate Morton
Published by
Atria
on October 16th 2012
Pages:
463
Source:
Simon & Schuster
Add on Goodreads
Amazon•Kobo•TBD My Rating:
During a summer party at the family farm in the English countryside, sixteen-year-old Laurel Nicolson has escaped to her childhood tree house and is happily dreaming of the future. She spies a stranger coming up the long road to the farm and watches as her mother speaks to him. Before the afternoon is over, Laurel will witness a shocking crime. A crime that challenges everything she knows about her family and especially her mother, Dorothy - her vivacious, loving, nearly perfect mother.

Now, fifty years later, Laurel is a successful and well-regarded actress living in London. The family is gathering at Greenacres farm for Dorothy's ninetieth birthday. Realizing that this may be her last chance, Laurel searches for answers to the questions that still haunt her from that long-ago day, answers that can only be found in Dorothy's past. Dorothy's story takes the reader from pre-WWII England through the blitz, to the '60s and beyond. It is the secret history of three strangers from vastly different worlds - Dorothy, Vivien, and Jimmy - who meet by chance in wartime London and whose lives are forever entwined

And just when I was having my doubts, Kate Morton managed to do what she does best… entrance you.
I realistically have no idea where to start this review at, this is such a complex story with so many twists and turns and heart pulls that it is going to seem like I'm talking in a loop.
The story flips back and forth between modern-day and 1941-ish London during the Blitz. It tells different perspectives from Jimmy, Dorothy, Vivian and Dorothy's daughter, Laurel. In 1961 Laurel witnessed a dark event, which has long been a family secret and while her mother is on her death-bed Laurel finds clues that push her to solve the mystery that took place so long ago.
The way Kate Morton can write a story is mind-blowing. At just over half I was ready to give up, I wasn't feeling the attraction that I did in her other's, especially The House At Riverton. Then at precisely the exact moment I wanted to push it aside Kate Morton flings a whole plot twist at you and you're sucked back in again.
This review obviously has little to no details about the actual story but if you have read any of Kate Morton's novel's in the past you know that any small detail given could ruin her mysterious plot. And this one had a major twist at the end. That's the strange thing about her stories, as much as I've given myself credit for guessing the correct twists, I am never able to do it with her novels.
If you're a fan of Kate Morton, you'll love it.  If the summary sounds interesting, pick it up. You will not be disappointed.