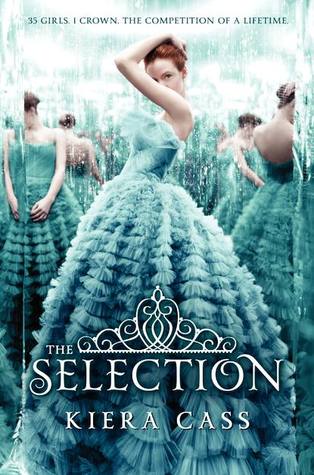 The Selection by Kiera Cass
Series: The Selection #1
Published by Harper Teen on April 24th 2012
Pages: 248
Source: Purchased on Kobo
Add on Goodreads
Amazon•Kobo•TBD
My Rating:

For thirty-five girls, the Selection is the chance of a lifetime. The opportunity to escape the life laid out for them since birth. To be swept up in a world of glittering gowns and priceless jewels. To live in a palace and compete for the heart of gorgeous Prince Maxon.

But for America Singer, being Selected is a nightmare. It means turning her back on her secret love with Aspen, who is a caste below her. Leaving her home to enter a fierce competition for a crown she doesn't want. Living in a palace that is constantly threatened by violent rebel attacks.

Then America meets Prince Maxon. Gradually, she starts to question all the plans she's made for herself—and realizes that the life she's always dreamed of may not compare to a future she never imagined.


I purchased this years ago, probably around the time the second book was releasing and then it seemed like my interests veered away from the dystopian trends toward other things and I never ended up picking it up. This year, in 2018, one of my main goals is just reading books I have because my owned TBR (both physical and ebooks) is at scary levels and I need to get to some of these books that obviously excited me when I bought them.
The Selection was pretty high in that list for various reasons: I still like dystopian books, even though it's not as big of a trend now and I heard it was a bit like The Bachelor including the reality show aspect. Sign me the hell up, please.
First off, I'm so glad I picked this up because I LOVED it. It wasn't mind-blowing but it was fun, easy to read and definitely has me addicted.
I really liked America. I have no idea where I had this preconceived notion but I expected to dislike her. And I so didn't! I loved her relationships with her family and I especially enjoyed that she was honest with her own emotions. Oh! And I love that she's remaining true to herself despite it practically being a beauty contest. I also really like Marlee but I'm anxious about her and this supposed secret she has for the next book. I'll be sad if she ends up vilified. Maxon, I like also but I'm not swooning over him. I do like him though.
I also enjoyed the love triangle because I love a good love triangle. I'm sure she will end up with Maxon but I like how the back and forth is playing out.
As soon as I finished The Selection, I requested the Elite immediately. If it was available I would have thrown my entire TBR out the window and just started it and binged the whole series. Unless it takes a turn, I'm sure this is one that I'm going to be buying physical copies for my shelves… and let's be honest here, they are just so pretty anyway ☺️
I can't wait to continue on with this series so stay tuned for future reviews and thoughts: I'm sure it won't be too long!