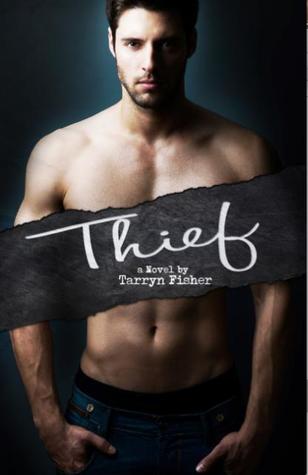 Thief by Tarryn Fisher
Series: Love Me With Lies #3
Published by Self Published on July 21st 2013
Pages: 273
Source: Purchased on Kindle
Add on Goodreads
Amazon
My Rating:

Note to Self

Love is patient; love is kind.
Love doesn't boast or brag.
There's no arrogance in love;
it's never rude, crude, or indecent-it's not self absorbed.
Love isn't easily upset.
Love doesn't tally wrongs.
Love trusts, hopes, and endures no matter what.
Love will never become obsolete.
I'll fight for her.

Thief

Caleb Drake never got over his first love. Not when he got married. Not when she got married. When life suddenly comes full circle Caleb must decide how far he is willing to go to get the aloof and alluring Olivia Kaspen back. But for every action in life there is a consequence, and soon Caleb finds out that sometimes love comes at an unbearably high price.


I purchased Thief as soon as I finished Dirty Red, and I started it immediately. After the bomb that was dropped at the end of Dirty Red, I just had to know what was going to happen between Olivia, Caleb and Leah.
Thief is in the point of view of Caleb, and I was so excited to read it from his point of view after the view glimpses we had in Dirty Red. I think the fact that each main character had their own book and chance to tell their story was really beneficial to the overall story. I liked Caleb's point of view, although I was quite surprised to find myself not liking Caleb as much as I thought I would! He really played a huge part in the mental anguish that both of these women went through, not that he was the cause, but he certainly didn't help it at all!
I was so excited to see Olivia so much in Thief. I ADORE Olivia, and I was rooting for Caleb and her since book one! Leah was also back, just as wicked as she ever was, and so was Cammie with all her sass! I don't want to delve too deep into the plot and major events because I don't want to ruin this one bit. I'll just say, I laughed, I cried and I was certainly shocked by some of the things that happened.
I was SO satisfied with how this entire series wrapped up. I loved how everything played out and thought it was finished perfectly. There was a lot of emotion in the chapters leading up to the end, there wasn't a possibility I could have put this book down: I had to know what was going to happen! All I can really say is just READ THIS SERIES! It's worth every penny you will pay for it.
I wholeheartedly recommend this series. This will be a favorite of mine forever and will definitely be one that I will be rereading in the future.