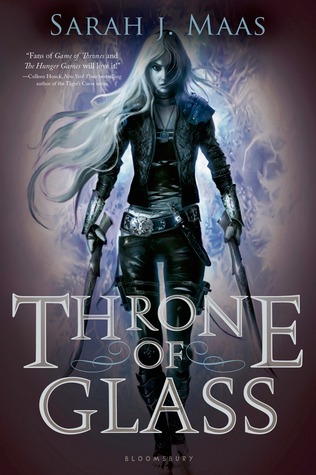 Throne of Glass by Sarah J. Maas
Series: Throne of Glass #1
Published by Bloomsbury on August 02nd 2012
Pages: 404
Source: Purchased on Kindle
Add on Goodreads
Amazon•Kobo•TBD
My Rating:

After serving out a year of hard labor in the salt mines of Endovier for her crimes, 18-year-old assassin Celaena Sardothien is dragged before the Crown Prince. Prince Dorian offers her her freedom on one condition: she must act as his champion in a competition to find a new royal assassin.

Her opponents are men-thieves and assassins and warriors from across the empire, each sponsored by a member of the king's council. If she beats her opponents in a series of eliminations, she'll serve the kingdom for three years and then be granted her freedom.

Celaena finds her training sessions with the captain of the guard, Westfall, challenging and exhilirating. But she's bored stiff by court life. Things get a little more interesting when the prince starts to show interest in her... but it's the gruff Captain Westfall who seems to understand her best.

Then one of the other contestants turns up dead... quickly followed by another. Can Celaena figure out who the killer is before she becomes a victim? As the young assassin investigates, her search leads her to discover a greater destiny than she could possibly have imagined.


To say I was excited to read Throne of Glass might have been a slight understatement. The way that the final novella in The Assassin's Blade ended, there was no way, even with my shattered heart that I couldn't immediately pick up Throne of Glass!
I'll be honest, the first thing I noticed about Throne of Glass was the lack of Sam mentioning. I felt so destroyed after reading The Assassin's Blade, I was certain that I would jump into the reflecting emotions from Celaena. But Throne of Glass is actually set a year after she has been in Endovier so it's to be expected that it's not the first thing that's mentioned, but oh my heart!
Now, normally when there is a love triangle [if I even like it at all], I am firmly on one side of it. There is always a firm line about which one I want picked but that didn't happen here! In the chapters that Chaol was in, I loved him… in the chapters that Dorian was in, I loved him! I had such a hard time choosing who I loved the best for Celaena and even now, I almost have a hard time deciding who I liked best but I think Chaol takes a very, very slight advantage. Obviously with that being said, I loved both Dorian and Chaol. Dorian was softhearted where you didn't expect him to be, and kind and protective. Chaol was a bit of a sarcastic ass, gruff, sometimes forceful but I LOVED that about him. Especially his gruffness. AHH… they were both amazing.
Celaena was her perfect, amazing, badass self that I had come to love in The Assassin's Blade. One of the fears I had about reading Throne of Glass was that maybe Celaena would be a broken, shadow version of herself, especially after living in Endovier but that was SO not the case. She was a different Celaena, but still just as freaking awesome. And tough as nails!
I loved the plot. It was interesting, unique to me (I'm not well versed in fantasy yet) and kept me flipping the pages. I wasn't sure which contestant was going to end up dead next and I was definitely on the edge of my seat awaiting what would happen. I thought the whole aspect of what/who was behind the killings was very interesting, and I loved how it wound the history of the world into the actual plot (which I definitely wasn't expecting). I must admit that I thought it was a bit slow at times, but I sucked it up as I haven't read a lot of fantasy and I'm coming to release that the plots that I have read seem to be a bit slower placed then what I'm used to reading in other genres. But if I'm going to get this epic story every time I will TAKE THE PACE!
If you can't tell, I loved Throne of Glass. I am 100% invested in this series and will be starting Crown of Midnight this week. If your leery about the hype on this one, don't be. It's totally worth every bit of it that it receives. Sarah J. Maas has created an amazing world, storyline and FANTASTIC characters that just suck you right into their clutches.